The Conservatory at Whitworth Locke, have began their new French style after work party, with bottomless prosecco and mezze every Thursday and Friday. 
Every Thursday and Friday from 6-8pm, guests can sip on Prosecco, wines and beers for just £27 at this globally influenced venue. Pair your drink of choice with The Conservatory's delicious mezze aperitif selection for the ultimate Parisian style after work vibes.
The spectacular atrium at Whitworth Locke, a former street on the corner of Whitworth Street and Princess Street, has been transformed into the stunning pop-up bar which will host a calendar of events over the next fourteen weeks. The glass roof of the atrium reveals the changing colours of the Manchester sky, with its intricate detail complementing the dimly lit exposed brickwork. In the centre of the hotel atrium the bar dominates the space, inviting guests to sit and soak in the atmosphere throughout the afternoon and into the night.
As well as THECONSERVATORYBottomless, the bar will also offer AfterROCKteas, a disruptive afternoon tea, where drinks include kombucha and bubble tea, and sweet snacks are disguised as savoury ones, with a soundtrack of old school rock 'n' roll.
AfterROCKtea runs Wednesday and Thursday from 3pm till 5.30pm, with the last sitting 4pm. Booking is mandatory.
Launched this November 2018 The Conservatory Pop up shares its space with Whitworth Locke, Manchester's newest place to sleep over.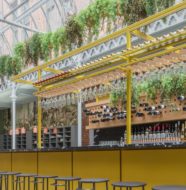 Housed on the corner of Whitworth Street and Princess Street, Whitworth Locke, the 160-studio aparthotel, is designed around the spectacular central glass atrium, and also includes a crossfit gym, and immersive co-working spaces for both guests and city residents. Plus, it also houses a second Foundation Coffee House, who have expanded from their original home in the Northern Quarter.
Previously a cotton mill, the venue has been transformed by acclaimed New York architects and designers Grzywinski+Pons to reflect the city's culture, taking inspiration from its industrial past and progressive present. The team has combined elements of lux in interiors, textiles and colourways with the use of sage, taupe's, apricots and terracotta, complemented by dark tones to reflect the Manchester sky resulting in the feel of noir luxury.
For more information visit theconservatorybar.co.uk, or follow them on Instagram @ConservatoryManchester.
The Conservatory, Whitworth Locke, 74 Princess St, Manchester, M1 6JD.
Opening hours:
Monday – Wednesday: 3pm till 11pm
Thursday / Friday : 3pm till midnight
Saturday: 12pm till midnight
Sunday: 12pm till 11pm