Manchester, September 2018: John Granaghan, head chef of city centre restaurant The Rabbit, has designed new Autumn menu that foodies will not want to miss.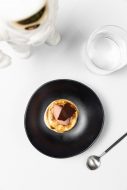 The new set tasting menu includes innovative Asian influenced dishes, Tom Kha Gai Soup, Thai Lobster Risotto and Chinese Roast Pork with XO Sauce and Stir Fry Vegetables. For those looking for something sweet, there's Roast Pineapple with Campari, Pink Grapefruit and Dark Chocolate, and Apple with Ginger, Passionfruit and Salted Caramel, finishing with Idulgent Petit Fours.
At The Rabbit guests can enjoy the calm yet classy atmosphere created by front of house manager Charlotte Rasburn and her knowledgeable team. The intimate interior, along with the exquisite new dishes and option of delicious paired wines makes The Rabbit the perfect place to experience out of this world food this Autumn.
The set menu is priced at £70 with the option to add on an expertly paired wine flight for £55. A vegetarian and pescatarian menu is also available. Tables are available at 7pm, 7:45pm and 8:30pm and booking is required.
The Menu
Smoked Eel Bao, Oyster Sauce, Avocado
Sambal Lamb Gyoza, Sweet and Sour
Porthilly Oyster, Pickled Ginger, Wasabi
–
Tom Kha Gai Soup
Scottish Langoustine and Sesame Toast
–
Thai Lobster Risotto
–
Kung Pao Beef
Pickled Mustard Leaf, Puffed Wild Rice
–
Chinese Roast Pork
XO Sauce, Stir Fry Vegetables
–
Roast Pineapple, Campari, Pink Grapefruit, Dark Chocolate
Apple, Ginger, Passionfruit, Salted Caramel
–
Petit Fours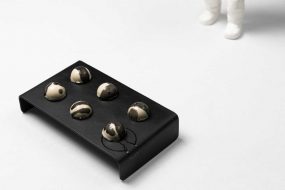 Reservations and Opening Times
Open Wednesday through to Saturday – lunch (Friday and Saturday) and dinner.
Booking is required via www.resdiary.com/restaurant/therabbit
Price for lunch £45 / dinner £70 / excluding beverages
Phone: +44 161 804 8560
Email: info@therabbitinthemoon.com
Web: www.therabbitinthemoon.com
Address: Urbis Building, Corporation Street, Manchester, M4 3BG