From November 19th 2018, Manchester duo, Ben Gretton and Tom De Santis officially opened the doors to Cocktail Beer Ramen + Bun (CBRB) on Wednesday, promising to turn the food and drink scene on its head with the only late night ramen joint in the city.
Who doesn't love late night cocktails and ramen on Oldham Street? Until 2am, you can indulge in ramen, bao buns, beer and cocktails. What a time to be alive.
CBRB, located across the road from The Castle Hotel, can seat up to 40 in the restaurant, with plenty of room in the bar for casual dining and drinking.
Boasting a Tokyo basement vibe, CBRB is hoping to appeal to those who are bored of the usual Manchester venues. So if you appreciate amazing food, well-made drinks and top-notch service, CBRB is the place we recommend for you.
As passionate about music as they are food and drink, the pair have worked with local dj's, including Out of Quiet, Jonny Dub and Szare to create the perfect atmosphere. Ben's dad is Rob Gretton, the late great Joy Division Manager so it's in his genes to get the tunes right.
Taking inspiration from classic Ramen hang outs in New York, Melbourne, Copenhagen and Paris, Ben and Tom think CBRB will be the perfect new addition to Manchester's food scene.
Talking ahead of the launch, Ben said: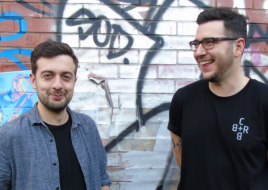 "We know that customers want somewhere new, that does things well and without flash or gimmick. We just make the things we love, that's all there is to it."
Tom, added:
"As well as sourcing the best ingredients for our food, we've teamed up with local cocktail curator Emma Roberts (aka Into The Gathering Dust), to create some vital elements for our cocktails. It allows us to think outside the box with our menu and makes the possibilities even more endless. Finally opening the doors to share our passion with people will be an honour, and I promise it will be delicious.'
Open from midday with their 'Nano-Ramen' lunch-time special and serving right the way through to 2am, CBRB's menu will also feature an array of vegetarian and vegan options.
The cocktail menu features handcrafted goodness, such as Hipsterol (their own pimped up take on Aperol) and a tonic syrup that makes their house G & T truly one of a kind. With a heavy focus on light serves using aperitifs and aquavits, their cocktails are setting a new approach that they believe the modern drinker will instantly warm to.
The doors will officially open from 12pm on Wednesday 21st November. Keep up with all they have got going on on their @cbrb_mcr social channels.