Set against a backdrop of iconic Manchester buildings including the Beetham Tower and the Palace Hotel, a new play Hidden, which reflects the reality of living in the Urban Environment of a Northern town, comes to Salford's Kings Arm's next week.
All About Manchester spoke to its co writer and performer Laura Lindsay.
It's a hard slog Laura tells me as the debut play, co written with best friend Peter Carruthers, in which they also perform, is currently on a national tour and London run following its critically acclaimed sell-out run at Underbelly in Edinburgh last August as part of the Edinburgh Festival Fringe.
"as well as performing in it, I'm also producing it and I'm the company van driver, so it's pretty tiring, but a lot of fun. And it's great to be able to generate your own work" says Laura
Laura began writing the characters, without giving away too much of the plot, using Cara as her starting point.She describes her as a bubbly person who is painfully struggling with her weight.After writing two more characters, she turned to Peter Carruthers, who she had met during training at Arden School of Theatre in Manchester.The two found that they shared a mutual love of new writing, an interest in human psychology and a shared dark sense of humour.Soon Peter had created the three male characters and the basis for the play in which the six create and manipulate their own images and whose lives cross, often with surprising results was born.
It is set in Manchester, Laura tells me, one makes the daily commute from Bolton into the city and before long the six will pair off.
>br />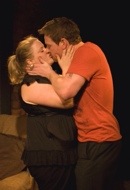 It is very much a reflection of urban living in the UK in 2014, the modern way of life that we lead in a technology driven world but one in which we are becoming even more disconnected and disenfranchised.Laura says that it is attracting a certain audience that would not normally be associated with the theatre.
Hidden isn't their first collaboration.The pair have worked together on two short films, one of which, Fall Out (which follows a veteran suffering with PTSD) has been commended by Sir Patrick Stewart as 'extremely powerful' and won Best Short Film at GI Film Festival in Washington .
Laura was recently nominated for 'Best Actress' in the Buxton Fringe Awards for her performance in In a Land Much Like Ours.
Laura tells me that the thriving Manchester fringe has been instrumental in shaping her as an actor and writer."
"It is a very special community and everyone is very supportive of each other which in this austere times is so very important
3rd – 8th March – 7.30pm
KING'S ARMS, SALFORD
www.kingsarmssalford.com
0161 839 8726
£10 / £8 (conc)