About Manchester put on its apron and oven gloves and headed to Cheadle Hulme to take part in a cookery masterclass at a brand new cookery school that has opened.
I was greeted by a tray filled with mushrooms,leeks,asparagus and garlic, a bowl of spinach leaves and a baking tray of nuts on entering the premises of At The Kitchen, for their Saturday morning Vegetarian and Vegan Class.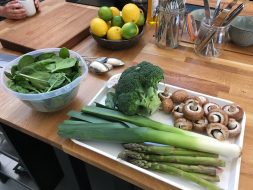 Our teacher Bex tells us that she became vegan about three and a half years ago, an afterthought decision to support a friend but she quickly became addicted, she set up a small business called the Mindful kitchen, based on the premise that food should be an nourishing and fulfilling experience.
No lentil or tofu burgers here then, today, she said is about putting some ideas into our heads
We started with simple nut butters and milks, quite daunting for some people, here made out of almonds soaked overnight and blended with water.
You can use any nuts or seeds says Bex, just 15 seconds you can add vinalla or spices if you want, use a sieve to remove the pulp and you're away and yes it tasted good and without all the additives of the brands that we see in the supermarkets,
Next nut butter, almonds toasted lightly and blitzed in a blender, add a bit of oil if you wish to help the process, without it will take around 8-10 mins, delicious I have to say
Following on from that we move to dips, hummus made with roasted beetroot, canned chickpeas,a table spoon of tahini, a pinch of sea salt,lemon juice of half a lemon, a few sprigs of dill and a dash of water.It formed our early lunch served up with a vegan cheese, biscuits and crudités
We're an hour in here and next on the list, a sour cream made with soaked cashew nuts, apple cider vinegar,olive oil, lemon juice and a pinch of salt, again all blitzed with a cup of water, the secret is the apple cider vinegar and you can certainly taste that in the finished product.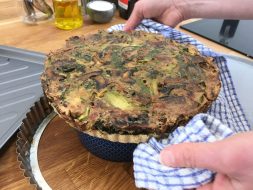 At the Kitchen is a perfect backdrop for cook, writer and food, stylist Angela Boggiano.
Angela's 25 years of experience represents a career that's seen her work as a writer and editor for some of the UK's top food and lifestyle publications including BBC Good Food, Olive, Sainsburys and Waitrose Magazine.
She also spent a number of years as food editor on Delicious Magazine and is the author of several cookery books, including the award nominated 'Pie'. And as a food stylist her
TV credits include working with stellar chefs such as Nigella Lawson, Giorgio Locatelli, Ainsley Harriet and Valentina Harris. At The Kitchen is the culmination of Angela's wealth of knowledge and insight,a unique space for her to bring her food philosophy and knowledge to a wider audience.
She says, "I'm from an Italian background and I think that's why, for me, life revolves
around good food! It's always been my dream to be able to share my cooking knowledge with people of all experience levels in a way that really gets across the fun and sheer joy of cooking, and this is the approach we've brought to At The Kitchen.
But back to the food and it's salad time now,
Brown lentils cooked with some garlic and onion, take both out and then mixed with par boiled, sugar snap peas and green beans, cherry tomatoes,spring onions and for the dressing, grated carrot, miso, garlic, tahini olive oil and lemon juice, with a dash of water.
Another salad next, more leafy green this time,a simple salad, rocket, water cress, radishes, lettuce, cucumber red onion, and this time accomplished by a dressing courtesy of advocado lime juice, apple cider vinegar,a drizzle of maple syrup,a mixture of basil and dill, and a pinch of cayenne pepper and salt,
Staying with vegan theme, a quiche, the base made from ground almond and oats,a pinch of oregano and salt, a table spoon of olive oil and the secret egg substitute, flax mixed with water which will form the gloppy substance, baked on a low heat for about a quarter of an hour.
The filling -one leek fried with garlic, mushrooms, asparagus in season now and make the most of it while it is in season, out of season try green beans or peas, broccoli, sun dried tomatoes, a pinch of oregano and salt, wilt some spinach in, then add the tofu mixture with some chopped herbs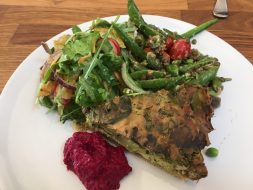 I couldn't resist trying the mixture before it went into the oven, the combination of the fried leeks, garlic and mushrooms, rather like trying the mixture of your Mum's baking before it leaves this oven.
While that is cooking, the desert,Avocado chocolate moose, three avocados, cocoa powder,some grated orange and some of its juice, maple syrup,vanilla paste,soaked dates and a pinch of salt.
It was simply yummy, and was very grateful that there was going to be some left overs to take back home.
To find out more about workshops, masterclasses, organising an At The Kitchen private event, studio hire and more visit: www.atthekitchen.co.uk email: hello@atthekitchen.co.uk or call: 0161 282 2050.