The Jarrow crusade – a march in the autumn of 1936 by 200 men from Jarrow to London to protest mass unemployment and extreme poverty – was born in a society facing a growing problem of inequality, injustice and the rise of fascist tendencies.
Eighty years on in post-Brexit England, bestselling author Stuart Maconie retraces the footsteps of the emblematic crusade, to tell an insightful, funny and fascinating account of modern Britain.
Traveling down the country's Eastern spine – from the established yet evolving cities of Leeds, Sheffield and London, to the quiet corners, industrial hamlets and hidden suburbia of Ferryhill, Barnsley, Bedford and Edgware – Stuart takes in the entertaining, sad and stirring stories from the streets, pubs, cafes and curry houses en-route.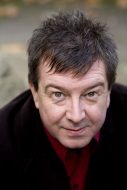 Weaving together a collective story of modern England and its people from the young political campaigner at a Jeremy Corbyn rally in Jarrow, to anti-austerity weekends in Darlington, and a Barnsley cabbies' history of the Miners' Strike, Stuart highlights the natural contradictions; the poverty and affluence, natural beauty and urban blight, revival and decline – that lie at the heart of modern Britain.
Revealing a nation eerily familiar to the thirties in its political turbulence, global instability, football-mania and food banks, yet at the same time wholly unrecognisable, with its pound shops, electric cars, boutique hotels and smoothie bars, Long Road to Jarrow is a journey to uncover what Britain really thinks and feels, and a timely and vivid exploration of an eighty-year old protest that still vibrates with potency and resonance today.