George's Dining Room & Bar in Worsley have welcomed a team of volunteers and visitors from the Booth Centre, a day centre assisting homeless people in Manchester.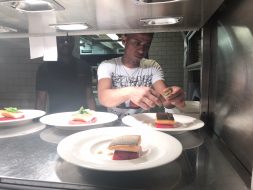 George's and the Booth Centre have a fantastic relationship thanks to the work of Foodinate, a restaurant initiative who provide meals for those in need and help with the fight against food poverty.
George's welcomed four people from the Booth Centre to experience kitchen-culture to support the Booth Centre's catering training programme. The programme provides aid for people looking to develop their skills and confidence to find work in the catering industry.
George's play an active role in supporting the Booth Centre. When a diner orders either a starter of Spring Pea Soup, the main course Chalk Stream Trout and Duck Egg Crème Brulee dessert, a meal is donated to the Booth Centre.
Urbanus Kinuthir and Megos Haile, who are both kitchen assistant volunteers at the Booth Centre, joined Head Chef Joe Mcleod in the George's kitchen to prepare the Foodinate meals for their fellow Booth Centre visitors. Barry Lundy, Kitchen Supervisor at the Booth Centre was served alongside kitchen assistant volunteer Simon Ewiwilem.
With Urbanus and Megos learning from an incredible Head Chef, they were taught how to fillet and debone a whole trout, produce a citrus mayonnaise and make the pea soup from scratch.
Booth Centre kitchen supervisor Barry commented, "It was great to be able to visit George's, see how their kitchen works and the efforts behind preparing their Foodinate dishes. Urbanus and Megus did a fantastic job and I was more than happy to sample their creations!"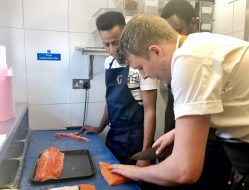 Head Chef Joe was thankful he could help the Booth Centre, he said, "It's so important for us at George's to give back to the community and demonstrate the hard work of the volunteers at the Booth Centre. Having the guys in the kitchen making the Foodinate meals is an ideal way to pass on our skills and experience and I hope they will be able to use what they learnt for many years to come."
The co-owner of George's, footballing legend Ryan Giggs, was glad he could support the Booth Centre, "I'm so pleased to be able to offer the Booth Centre our support, through Foodinate and our loyal customers we have donated thousands of meals to those in need. The guys did a great job in the kitchen today and we know where to look when we're next recruiting!"
About the author: 
Marie Harwood is a Digital Marketing Assistant at Different Gravy Digital, Hale, Cheshire.
Different Gravy Digital are a full service Digital Marketing Agency operating in the Hospitality & Leisure, Financial Services, Legal & Property sectors.  Products and services range from; 3D & 360° Tours, Website Design & Build, Social Media, Video Production, Search Engine Optimisation (SEO), Content Creation, Email Marketing, Online Feedback / Review Systems and Paid Advertising (Google, Bing and Social Media).
Contact Details:
marie@differentgravydigital.co.uk
0161 706 0004
120a Ashley Road, Hale, Altrincham, Cheshire, WA14 2UN