WOLF, with their unique take on Italian street food, is coming to Manchester city centre with Autumn!
Opening in Manchester Arndale's new £11m quarter Halle Place on the ground floor, WOLF will serve an all-day menu with a 'WOLF in the Office' delivery menu for city centre businesses, to cater for corporate lunches.
Breakfast is promised to be delicious, with healthy options like smashed avocado and smoked salmon pots, poached or scrambled eggs, frittatas with a choice of toppings and granola, as well as a selection of classic rolls, including egg, bacon and sausage. The "in store" baked pastries are a must have with WOLF's own blend Italian coffee.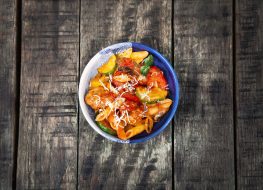 The main menu boasts a great selection of freshly made pasta, salads and its hero dish, the Piada – which is a thin crust Italian rolled flatbread. Customers will have a selection of meat, dressing, vegetables / salad items to accompany each base. For those with a bigger appetite, there is the option to go large for just £1 extra.
All meats free ranged and marinated on site for 24 hours, sourced from WOLF's Northern butchery. Seasonal vegetables are sourced daily from local producers and cut and prepped on site. All sauces and dressings are completely fresh – made from their very own Italian recipes – including their spicy sun-dried tomato pesto and a classic Parmesan Alfredo sauce.
WOLF's owner Tim Entwistle has been searching for a Manchester site for a while and when the Halle Place site became available, he jumped at the chance to have such an excellent location.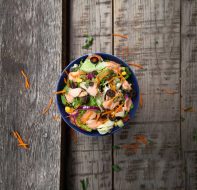 Tim explained: "Coming from the Manchester area, I've always wanted to open a WOLF here but have been waiting for the right opportunity and Halle Place felt like the perfect location for the brand. WOLF is a modern twist to Italian street food and is all about high quality, fresh food which is served quickly. It's ideal for office workers looking for a healthy lunchtime option, alongside shoppers who want a bite to eat in between browsing the shops. We pride ourselves on our homemade sauces and we're looking forward to introducing our signature Piada dish, which is essentially an Italian version of a burrito and is incredibly popular at our other sites.
"We will have a seating area but are fully prepped and primed for people to grab n' go, especially if they're on their lunch break. There's a lot of great brands opening at Halle Place and we're looking forward to being part of this new dining quarter!"
WOLF will open from 9am and close to tie in with Manchester Arndale's closing times. It has an alcohol license and will offer a selection of Italian beers and wines.
 http://www.wolfstreetfood.com/