Two women who brutally tortured an elderly man after binging on booze have been jailed.
Megan Stafford aged 28 of Dean Street, Ashton Under Lyne and Amy Squires aged 27 of Coronation Road, Ashton Under Lyne were sentenced to 13 years six months in prison at Minshull Street Crown Court today.
The pair pleaded guilty to attempted murder at a previous hearing.
The court heard how the 78-year-old victim was asleep at his home on Kings Road, Ashton-under-Lyne, when he was woken up by a noise from his living room about 4am on Sunday 30 Octoberlast year.
He went into the room where he found Stafford and Squires rifling through his belongings and drinking his alcohol.
When he questioned what they were doing the duo shoved him to the floor and began kicking him in the face and body.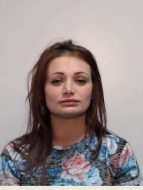 Squires then grabbed a knife from the kitchen and stabbed him in the neck before Stafford went through his pockets to steal cash from his wallet and his watch from his wrist.The pair then took it turns to put a bag over his head to try and suffocate him.
The victim, who has impaired mobility, pleaded with them to call him an ambulance but they ripped the phone out of the socket.After four hours of torturing him, he was then hit over the head with a statue and fell unconscious in a pool of blood.
When he eventually came round Stafford and Squires were asleep on the sofa after drinking the alcohol they had stolen.
He managed to struggle to his feet and using a crutch and walking stick he was able to get outside where he flagged down a passer-by. He was taken to hospital with extensive multiple injuries and has since made a full recovery.
Officers attended the address and found Squires and Stafford still asleep on the sofa.
They were subsequently arrested and charged with attempted murder.
Detective Chief Inspector, Richard Ennis, from GMP's Tameside borough, said: "How anyone could carry out such a horrific attack on a defenceless elderly man is incomprehensible – it's utterly sickening.
"They brutally tortured him despite him screaming and pleading for them to stop.
"They had every intention of killing him and even took enjoyment out of telling him they would so. He truly believed he would die there lying on the floor.
"What Squires and Stafford did was abhorrent and this man has shown immense courage from the moment they carried out the attack, to the sentencing today."