The borough of Oldham is revving up to retain our Best City in North West in Bloom title and hope the trophy will be traveling home with for the sixth year in a row.
This year the route the judges will follow when making their final decisions starts at Alexandra Park where they will meet representatives from Age Concern, Wheels for All, The Growing Hub and Medlock Bridge Anglers before making their way up to Union Street to see representatives of First Choice Homes in their headquarters.
They'll then take in the Boot and Beanstalk display on Emmott Way and Gallery Oldham before travelling up to Huddersfield Road, viewing Waterhead War Memorial and Waterhead growing hub followed by Stoneleigh Park and the Secret Garden
Then it's back to the town centre where they will visit Mahdlo, meet children from Holy Cross School before finally judging the winner of the schools' Bloom and Grow banner competition.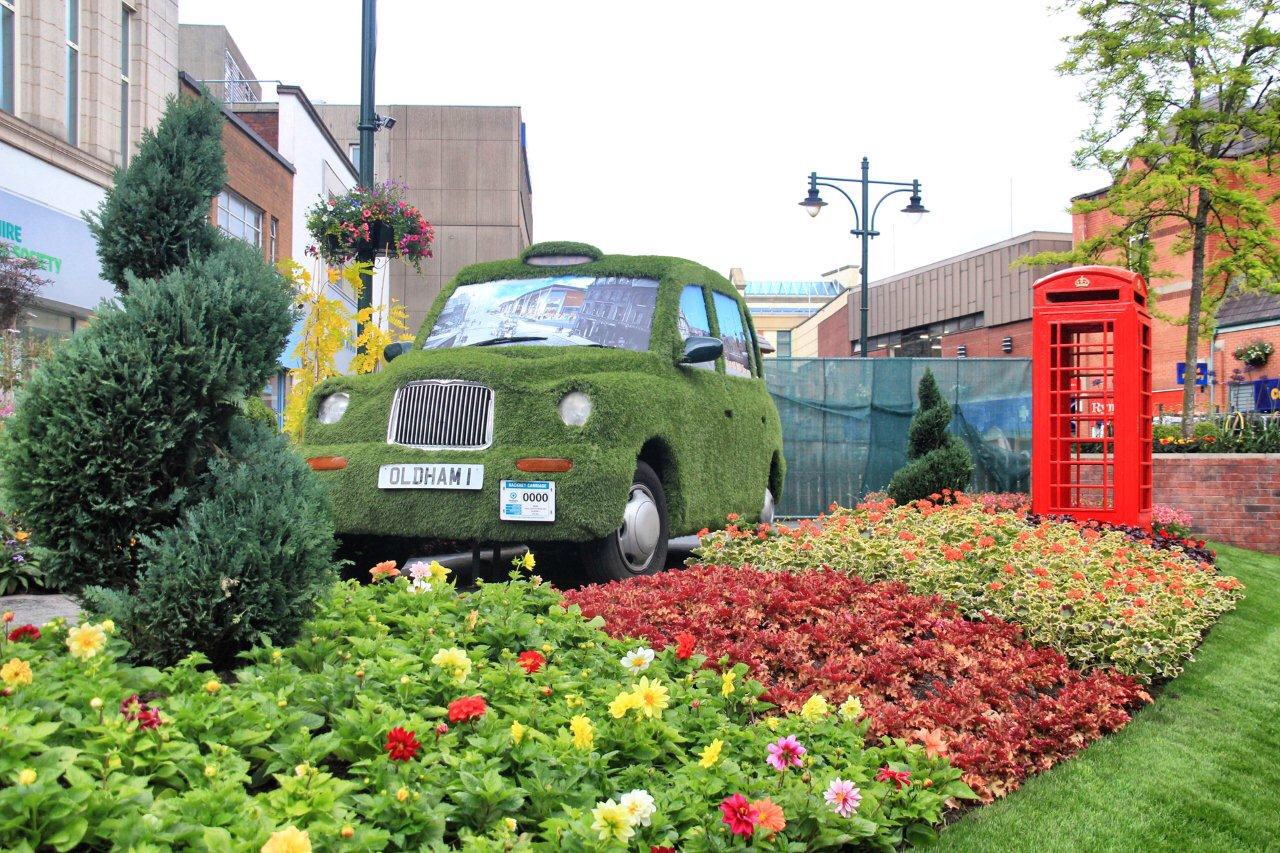 As usual our entry into the competition aims to showcase the best the borough has to offer.
We've gone for a theme that shows how the local authority, residents, businesses and stakeholders are working together and driving change.
In keeping with this theme, the WOW display bed in the town centre includes an iconic Hackney cab – enhanced with fake grass – and a traditional red phone box.
If you look carefully you'll be able to see the display contains images of the town centre's past, present and future.
The bed will stay on show throughout the summer after which it will be reused elsewhere in the town.
Councillor Barbara Brownridge, Cabinet Member for Neighbourhoods and Cooperatives, said: "Once again the Bloom and Grow centrepiece has the wow factor and we think it really shows that Oldham is going places.
"Residents who see this will be really impressed – and I'm sure the judges will be too when they visit.
"Bloom and Grow is a real team effort; it's not just the council's environmental services – who do a sterling job – it's about residents, schools, businesses and community groups pulling together and making an effort. A lot of people show pride in our borough; let's make sure that it's reflected by how we make it look."