Elliot Cummings aged 27 of Mull Avenue, Longsight has been sentenced to twenty months in prison at Manchester Crown Court.
He pleaded guilty to conspiracy to commit criminal damage and handling a stolen motor vehicle at a previous hearing. He was also handed six points on his driving licence.
The court heard that last month Cummings went into the staff carpark at HMP Manchester on Southall Street.There, he began throwing paint stripper on the cars, which belonged to the officers who work in the prison.
Cummings also used a hammer to cause extensive damage to the six cars that he targeted, leaving them with broken windows and ruined paintwork.Police officers were quickly on the scene and began chasing Cummings down Bury New Road and alongside the River Irwell, where he was detained.On searching Cummings, they found keys to a car which had previously been stolen from Moston.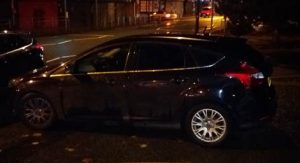 Detective Constable Adam Cronshaw of the City of Manchester Challenger Unit, said: "Elliott Cummings planned this attack in advance with intent to cause as much damage as possible knowing the prison officers were working hard inside the prison late at night.
"The staff at the prison have a difficult and demanding job as it is, without having to deal with this kind of malicious vandalism.
"This sentence will provide Cummings with plenty of time to reflect on his spiteful actions whilst on the inside of the prison walls."