This Saturday the 9th of September the Manchester Arena will reopen its doors for the first time since the bombing on 22 May, which as we all know took the lives of 22 innocent concert goers and where 250 people were injured.
Our roving correspondent, John S Locke, spoke earlier this week to one of the organisers of the concert, Joel Perry
According to Joel,  'We Are Manchester': this will be a show of strength for the City, for the Arena and the staff who work there, the artists performing and, importantly, those that attend shows and events – us.
'It has to be a show of strength and unity for our City and its people' said Joel
Joel was approached in the weeks after the bombing by the Arena's event manager, Sarah Hodson, to discuss the possibility of helping put together a show to mark the first night the venue could reopen its doors.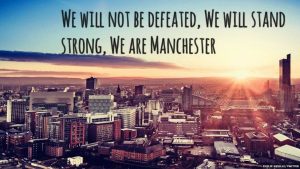 John asked Joel what his first reaction to this request was.
'Extremely touched and flattered to be asked, and more than happy to accept – but more than that, working in the industry, recognising the responsibility and support we all have to reassure concert goers. It is, after all, the entertainment industry, where people go to enjoy themselves, see their heroes and come away with something of great value, to remember. Music – and particularly live music – is good at doing that…'
How did you go about getting the line up sorted and who did you ask first?
'We drew up a list of acts the arena wanted. And made a collective effort in making approaches.
The first stop was Noel… who was their top priority.
Obviously, it is not just as straightforward as asking him and his band and expecting them to say 'yes' straight away.
There's a lot of considerations. Thankfully he, his management and his agents saw the full magnitude of the event and were very keen to help the cause.
Did it feel somewhat of a huge responsibility to take on?
'Absolutely! A huge responsibility… But, I do think, if you're faced with the proposition of helping someone out, you absolutely have to. No matter what. There are no egos with stuff like this. Or there shouldn't be!'
Everyone who we approached, not just artists – but production suppliers, crew, technical people, etc, have been selfless in their support. Which is testament to all involved.
The work that goes on behind the scenes, dealing with safety, security, the local authorities, police and everything else it takes to organise an event of this size, is significant.
That given, everyone knows the task in hand – and collectively, are on the same page.
How was it choosing the line up for this first show?
'All the Arena's shout. The show had to be the right show – and I think they have made the right considerations to that end.'
'It needed to be in the spirit of the City, which leaned on pop as well as rock. It had to appeal to a wide demographic… We think we got the right mix'.
And selling out in a minute and half, is not bad going!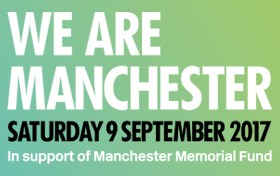 Did the Ariana Grande show at the Lancashire Cricket ground give you a lot to think about as in its size and spectacle?
I don't think anyone can fail to be impressed by what Ariana managed to do. For a 23 year old woman, to show such compassion, was pretty special, emotive even.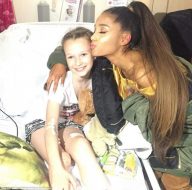 Ariana and all her team pulled together something pretty amazing, in what must have been a record-breaking short amount of time.
It was an incredible achievement. She handled herself with incredible poise and grace, and showed a huge sensitivity to those who were lost and injured – through doing what she does so well. I still believe everyone here – became a family member of those affected, in May. It hit us all. The city holds her in great regard, following that huge act of kindness.
Now, we hope we can show people we are getting back on our feet with this Saturday's show – and provide a further message of positivity and hope along with it too.
We Are Manchester, after all…'