How much would the legends of football history be worth in the modern game? It is a question that gets thrown around living rooms, the workplace and pubs regularly. The staggering fees spent on players this summer have dwarfed anything that the sports world has seen before.
Mark Hughes left Manchester United in 1986 for a British record transfer fee of £2.3 million. The record was smashed eight times in ten years and in 1996 Alan Shearer went to Newcastle from Blackburn Rovers for £15 million. Fast forward another ten years and the record was once again broken, this time by Chelsea who signed Ukraine goal machine Andriy Shevchenko from AC Milan for £30.8 million. The current British transfer record was set in 2016 when Man United splashed out £89.7 million to bring Paul Pogba back from Juventus.
In 30 years the British transfer record has increased by a factor of 39.
Neymar's mega move to Paris this summer brought the discussion of transfer fees back into fashion. It certainly caught the attention of Giffgaff Money who produced a comparison of players who moved for massive amounts of money this summer and the value of footballing legends at the same age.
Manchester United legend George Best was compared to Everton summer addition Gylfi Sigurdsson. The Icelandic midfielder cost Everton £40 million from Premier League rivals Swansea. From that transaction and Giffgaff's formula the Belfast Boy was valued at £157 million which would mean he would be worth just under the amount that was paid for Neymar. Plenty of United fans would argue the contrary. At 27 Best had scored 190 goals but his troubles had commenced and his best years were behind him.
Everton were aided in their pursuit of Sigurdsson by the sale of Romelu Lukaku to United. The Belgian striker was used in the comparisons to estimate the value of Diego Maradona. At the age of 24 the Argentinian legend had netted 210 times. Lukaku's £75 million price tag was high but after the sums Maradona was valued slightly higher at £94 million. Maradona's career went from strength to strength and in the his mid twenties he had a successful period with Italian slide Napoli.
Kyle Walker's switch to Manchester City this summer for a potential £50 million, depending on add ons, was used to work out how much Paolo Maldini would be worth in today's market. Maldini was a one club man which meant he was never involved in a transfer so his value is completely unknown. Until now that is. Giffgaff, using their formula, valued a 27 year old Maldini at £111 million.
Another Man United signing was used to work out the value of two former England centre-backs. Victor Lindelöf, who has struggled in the Premier League so far, joined from Benfica for over £30 million. From that information Rio Ferdinand and Tony Adams were valued at £56.6 million and £64.1 million respectively.
Check out the other comparisons here.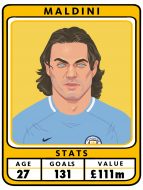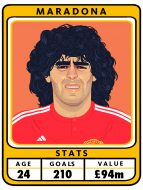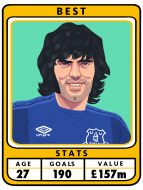 Illustrator (Dan Evans) Twitter – @dan_draws