A new exhibition at the Imperial War Museum North on Salford Quays aims to tell the stories of the people of the North West of England during the First World War assembling more than two hundred personal objects, films, sounds, photographs and letters. Matt Brosnon showed About Manchester around
Three days after war was declared in 1914, and the country was plunged into a catastrophic four year war which it was totally unprepared for, Ada McGuire from Liverpool wrote to her sister Eva in America I am wondering whether this terrible war will affect Ralph much she writes, Ralph her brother in law.She tells that the Stock Exchange had closed and how everything has risen in price.
Then there are the three Hewlett children who write to Lord Kitchener, asking him not to take their pony for military service. Letters form a strong part of this exhibition, the first of the Imperial War Museum North's exhibitions centering on the centenary of the conflict which aims to show how the war changes the lives of those in the North West forever
A year later Ada is writing again wanting the government to be more decisive and introduce compulsory military service.She grips that we are fighting an enemy that is equipped and been preparing for war for twenty years. Hearing the first news of the Somme she believes that the tide had turned but the price has to be paid and her final letter in November 1918 as peace is declared
Hurrah, hurrah, hurrah peace at last it seems too good to be true
The exhibition starts with the area oblivious to the impeding doom brewing in Europe, a rare film of Stockport Market, workers arrive for their shift at the mill, a bustling Salford Docks, a football match at Old Trafford and a royal visit to Blackpool. Then in early August, a burst of patriotic fever, recruitment posters, women called to the textile mills, the organizing of the Pals brigades and a letter left by William Anderson, a stain glass designer from Blackpool, telling his mum that he had left for Flanders to do his duty for king and country.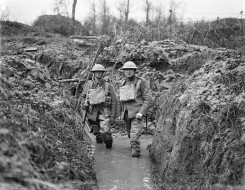 As it became obvious that this war would not be over by Christmas, the exhibition demonstrates his war became total.Posters telling the public to cut back on their consumption of petrol and alcohol. 'Save two slices a day and defeat the U boat' And how the fighting for the first time in modern history came direct to the home front as thirteen people were killed on Kirk street in Bolton when a Zeppelin dropped its load of bombs on a night in September 1916. Industry was mobilised as well.
A Salford firm J Morris and Sons producing an horrific flame thrower that could propel destruction eighty two metres and the Altrincham Company which adapted machine gun technology to produce a camera that could capture ariel shots of enemy lines and a trench periscope created by the owner of Duerrs jam factory.
The story of the North West's tommy is of course not forgotten but Matt tells us that he wanted to look at the regions contribution in the lesser known fields of battle. Leonard Riddell, who fought in the skies, shot down and badly injured but survived in a POW camp and Mathew Richardson who fought in Gallipoli badly wounded, his arm amputated and returned to stretford where he was used as a recruiting hero. The country's darkest day during the conflict was the July 1916 offensive on the river Somme.
The collection contains the personal effects of Albert Tattersall from Moston, killed at the early stage of the battle, his bible, his pipe and cigarette case and Wilfred Wharton, a junior officer from Urmston wounded also on the first day, who writes that only nine of his battalion of forty survived. Then there is Victor Brooks originally from Gorton who fought as part of a Canadian medical unit after emigrating there and was awarded a Albert medal for rescuing two soldiers overcome by fumes. Graham Boxer, IWM North Director, said: 'One hundred years on, the objects we display highlight the poignancy and courage of people who shaped and were shaped by this first global conflict. Even a century later there are stories untold, experiences undiscovered and tales that will surprise.
' It is, we at About Manchester clearly state, an exhibition not to be missed
From street to trench-A World War That Shaped A Region Major First World War Centenary exhibition Special Exhibitions Gallery, IWM North, Free Entry – Donations Welcome, 5 April 2014 – 31 May 2015 .