Reserve Wines are re-inventing the concept of mass wine tastings on 22nd June with their Wine & Food Festival, taking place at one of Manchester's most exciting event spaces, Fairfield Social Club managed by local street food event moguls GRUB.
Inspired by the success of some of the most avant-garde beer events in Manchester and across the world, this event presents a completely unique opportunity to enjoy a vast range of different wines in a totally inclusive and engaging way without compromising on the fun factor of a good night out.
"It's always been about making wine fun and accessible and this type of event totally fits in with what we are trying to demonstrate" said Kate Goodman, founder of Reserve Wines. "There are too many preconceptions and traditionalism surrounding wine and we think Manchester is ready to see past these and join in the fun."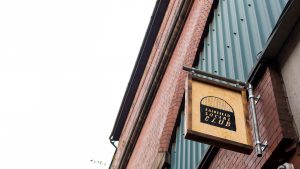 On top of a 100+ strong wine line up, a couple of local gin outfits, Manchester Three Rivers and Faith & Sons, will be present alongside the English Whisky Co. "Gin, and spirits as a category have obviously emerged as key attractions, for us as much as for our friends and customers and we cannot conceive running an event without showcasing some of the best examples out there. Luckily, we didn't have to go too far to find them" said Nic Rezzouk, the event organiser.
For the food element of the evening, Reserve have called on three of the most popular local street food traders: Yakumama (Latin American), Little Orange Co (Sicilian arancini risotto balls) and ChouChoux (French patisserie). "Wine and food go hand in hand, family and friends around the table. Manchester is a buzzing place for great food right now and being able to work with such talented people on both sides of food and drink is just brilliant" says Kate who used to present Food & Drink on BBC2 alongside Michel Roux Jr.  
Nic Rezzouk added "we are so enthusiastic to see more and more people enjoying good wine and seeking new ways to experience it. We see this opportunity as the possible beginning of a new streak of wine-led events. We have more and bigger ideas in the bag so be sure to keep your eyes peeled"
A nominal £7 fee (+booking fee) will get you in, and a token system will be used to redeem drinks, just like in a beer festival. The food traders will charge separately.
This event will take place at the Fairfield Social Club, Archway 6, Temperance Street, Manchester, M12 6HR.
Photos James Darcey/Northern Industry Photography.