King Street tapas restaurant El Gato Negro has introduced a number of new dishes to its award-winning menu for the summer season.
Renowned for simple, bold and confident tapas dishes, Chef Patron Simon Shaw has developed several new additions to the current menu, each informed by seasonal produce.
Leading the list of new dishes are navarrico chickpeas with fritarda sauce and caramelised cauliflower florets, sardines marinated 'en escabache' with fennel and orange salad and braised ox cheek with horseradish mash, baby onions, button mushrooms and pancetta.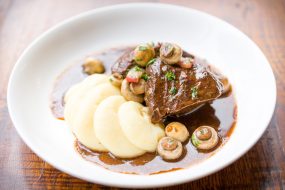 Seafood lovers can enjoy the handpicked white crab meat with avocado and gazpacho, accompanied on the menu by Coca Mallorquina: flatbread from Mallorca with red onion and pepper confit, Monte Enebro goats cheese and baby monkfish fillets with LED tomato, shallot and mini caper sauce.
A mixed leaf salad combining LED tomato, cucumber, avocado, spring onion and house dressing provides the perfect accompaniment.
Drawing on both modern and traditional flavours, the new additions all combine the magic of Spanish cuisine with fresh local ingredients, creating brilliant and balanced food.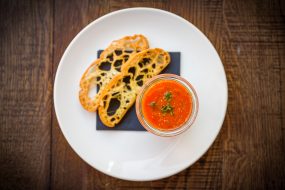 The menu 'Rapido' continues for those tight on time, with some of the restaurant's best loved dishes and new additions served with speed – available Tuesday-Friday lunchtime.
Speaking on the menu refresh, El Gato Negro's Chef Patron, Simon Shaw said: "There's something very simple and bold about the new dishes and I really wanted to bring the magic of Barcelona, Madrid and San Sebastian right here to the heart of Manchester, providing diners with brilliant and exciting cuisine full of Spanish flair."
The restaurant now welcomes parties of up to 16. Diners interested in making a reservation can call to book on 0161 694 8585.
For special occasions and events, the restaurant's top floor is now available for private hire. Complete with its own bar and retractable roof, the location caters for up to 60 seated guests or 100 standing.