Clydesdale and Yorkshire Bank's digital banking service B is transforming the high street banking experience with the opening of B Works in Manchester. 
The three-storey retail and SME lending space, which is on the busy Market Street in the heart of the city, is unlike any other.  With research from B finding that finances are the biggest cause of concern for more than a third (36%) of people in the North West, B Works will give Mancunians a new space to remove the fear which many consumers, entrepreneurs and small business owners have around managing their finances.
The offer, says the Company is much more than your normal banking service.
It includes a B Social Studio: Designed by Steve Bartlett, CEO and founder of Manchester's Social Chain, it offers a private space for consumers and SMEs who want to build an online presence and improve their social media skills and reach.
With local partnerships in place, and a space in store for fitness classes, panel sessions and movie screening, B Works will offer a series of events and guest talks to help local consumers and SMEs learn and grow their business
It will also offer fitness and yoga classes to encourage people how to look after their overall as well as their financial well-being.
There is a co working space with bookable meeting rooms, hot desks and longer term co-working desks, charging points and free Wi-Fi, while not forgetting the banking service. When in store locals will be greeted by staff from a wide-range of professions, who are as comfortable making great coffee as they are talking about banking and mobile apps. The team includes a Zumba teacher and an ex-cabin crew member all fully trained to offer financial help and advice in a way that removes the old clichés and jargon associated with traditional banking.
It also comes complete with its own hospitality area to encourage local consumers to unwind and work in a more relaxing environment over a cup of coffee
"With our research finding three quarters (76%) of people in the North West are worried about money and two fifths admitting the fear of money sets in before they reach the age of 25, we know that the nature of high street banking is changing. With B stores already in London and Birmingham, we're delighted B Works is now opening in the north west of the country, as we spread our footprint nationwide," says Helen Page, B's Group Innovation and Marketing Director.
"The role of the bank is changing and the reality is that more customers are choosing to bank digitally. We need to continually reimagine what we offer to customers across our channels to ensure we remain relevant. Revolutionising our in-store experience for local people is a big step in achieving this."
Once in store, individuals will also have access to our B Works partner programme which offers a wide range of expertise and experience from the business community.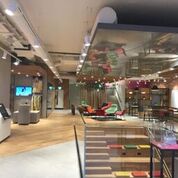 For example, global fashion ecommerce brand Boohoo, whose Group headquarters are in Manchester, will have both a digital and physical presence instore and will be holding a number of events.  The Growth Company will put SMEs gurus on the ground to offer advice and events, while Freeformers will help boost social skills by hosting digital skills workshops.
A partnership with pro-manchester will see B Works become home to all of the organisation's SME Club events while Manchester Metropolitan University will bring in some of the city's finest academics to develop new ideas and test new concepts. The regular events programme and local partner network will help bring mindfulness, life coaching and workshops specifically for Manchester's bustling entrepreneurial and business community. 
Page continues: "Our commitment to SMEs is well documented and we're confident that by creating an informal space that encourages innovation, co-creation and supports growth for local consumers, entrepreneurs and SMEs, we'll transform the way our customers interact with us."
B Works is located at 48 – 50 Market Street, Manchester, M1 1PW. Doors open to the public on 14th January 2019