Salford City Council is appealing to the public and businesses to help catch  fly tippers who dumped around 160 tonnes of smelly waste in the city streets in broad daylight.
One stinking mess was dumped on a patch of vacant ground in Clarence Street, Lower Broughton around 4.15pm on Tuesday and a second mess was left on land in Edward Street on Wednesday, right in the heart of the Cambridge Industrial Estate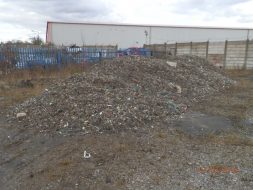 Council officers are now appealing for anyone who saw any tipper trucks or skip wagons in the area over the past few days or people on the sites to come forward with details in confidence. Any dashcam footage of waste wagons in the area would also be very helpful.
Councillor David Lancaster, lead member for environment and community safety, said: "I am absolutely furious about this. Salford City Council has just lost another £11 million from its budget, hitting front line services hard and we now have to waste public money cleaning up after these criminals.
"This looks like processed household waste which has been mulched down or shredded at a waste transfer station somewhere for incineration or landfill.Whether that's an illegal or legal station we don't yet know but we will do everything we can to find and prosecute those responsible.
"The waste is giving off an awful smell of rotting rubbish but the fumes are not toxic. We would advise people, though, not to go near the waste. We have secured the sites and have already begun clearing it from the site today.
"I'd urge all members of the public and the business community to be vigilant. If they see anyone flytipping please note any details you can and report them as soon as possible online through our website or phone 0161 793 2500 during office hours."