The new breakfast menu at the Deansgate Hilton's Cloud 23 definitely delivers. With a carefully planned menu that offers a dish for everybody the bar adds an impressive option to breakfast in Manchester.
As anybody who has visited Cloud 23 before will know, it provides customers with a great view of the city. The beautiful skyline, joined by multiple cranes that highlight the boom of construction the city center is experiencing, capture the essence of Manchester at this moment in time.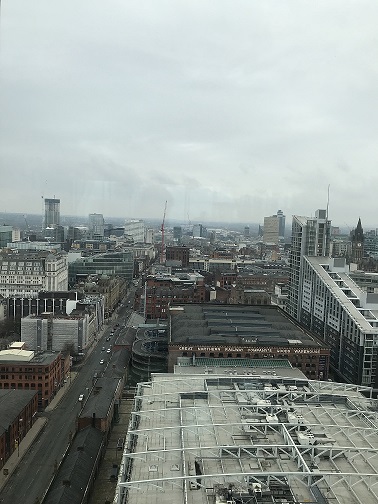 The venue is sophisticated but the atmosphere is relaxed. The Christmas decorations were subtle and towards the end of our time at Cloud 23 a singer and violinist performed in the background. The waiter serving our table, Dean, was informative and helpful. The level of service and the ambiance of the venue were excellent and significantly improved the experience overall.
Now onto the food. We tried the smoked salmon egg royale which was presented on a grey dish, a perfect canvas for the colours on the plate. On top of toasted bread lay wilted spinach, smoked salmon, poached eggs, Hollandaise sauce and toasted garlic. The eggs, cooked perfectly, were the stand out on this dish and the toasted garlic was a nice touch.
We also tasted the Belgian waffles, pancetta, maple syrup and vanilla ice-cream. The combination of sweet and savory divides opinion. We loved it. The waffle was just right and the pancetta was salty offering a contrast from the sweetness of the ice cream and syrup. The texture of the ultra crispy pancetta provided a magnificent variation when eating this breakfast option.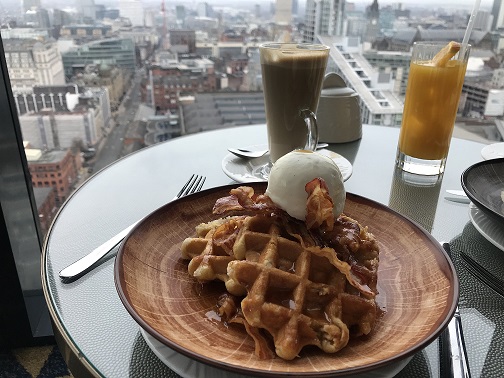 Finally we opted for the Danish delights, a selection of pastries served on a wooden board. With this dish came two croissant, two pan au chocolat, two pastries filled with jam, salted butter, jam and fresh strawberries. All the pastries were warm and flaky. It was a magnificent end to an enjoyable meal.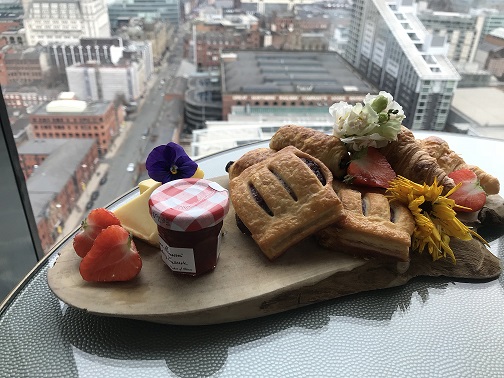 While dining we tasted both the orange and pineapple juice which were strong and sweet. The drinks were of the highest quality.
The experience of breakfast at Cloud 23 was superb. From the moment we entered the staff were attentive and it felt as if they wanted to make our experience special. The food lived up to the standard set by the staff. While the menu is not the largest it covers all the bases. It caters for sweet, savory, healthy and not so healthy moods. If you want a delicious breakfast with great service and a breathtaking view, Cloud 23 is the place to go.
To make a reservation at Cloud 23 call 0161 870 1670 or email cloud23.manchester@hilton.com – alternatively book online and see the full menu via www.cloud23bar.com