For the past five years, Manchester Cathedral has organised a photography competition, Capture the Cathedral.  Every year the standard gets better and better as entrants seek to impress the judges with images of this beautiful historic building.  This year was no different; almost 300 images were submitted making the judge's decision a difficult one.
The judging panel for 2017 included Mike Shaft (BBC Radio Manchester), Grant  Mitchell  (Founder and Creative Director of Manchester Design Agency, Transmission), Vincent Cole (MEN photographer), Joanne Hooper (Cathedral Communications and Marketing Officer) and Dympna Gould (Cathedral Visitor Services Manager).
Entrants were invited to take photographs in three categories: Architecture and Stained Glass, Cathedral at Night and Something Different.  The judges chose a winner in each category and an overall winner.  The winners are as follows:
Architecture and Stained Glass – High Altar by Tony Davies
Cathedral at Night – Let there be Light and Lasers by Becky Ryding
Something Different – Holy Smoke by Belinda Hastie
The Capture the Cathedral Overall Winner for 2017 is Belinda Hastie.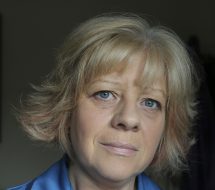 On hearing the news Belinda said:
"I am passionate about photography and was introduced to it at an early age by my father who was an enthusiast. For the last five years I have taken a 'photo a day' for an online photo journal, Blipfoto. It has become a huge part of my life and I've met many other photographers on it and have learnt a lot over the years. I carry a camera with me wherever I go, always hoping and ready for that one shot! I love taking photos of people and I've managed to capture a few famous faces along the way. I love trying to get something unusual and so to get on the roof of the Cathedral and take photos amidst hundreds of bees was an amazing experience and a privilege. I was thrilled to bits when I heard my photo was the winning one, the standard of the other photographs that were shortlisted was extremely high and so I was amazed when I won. I look forward to taking more photos at the Cathedral over the next few months".
Belinda will be Manchester Cathedral's Official Photographer 2017.
The winning photos and a selection of entries will be on display at Manchester Cathedral until Sunday 4 September.  Whilst the exhibition is on display, members of the public are invited to vote for their favourite photo.  The photographs are also on the Cathedral Facebook page (https://www.facebook.com/ManchesterCathedral) where online voting is available.