Step into Cloud 23's very own 'glass' elevator and prepare to be amazed by its brand new Cocktail Emporium.
Hilton Manchester Deansgate adds enchanted cocktails and edible treats to its menu – but nothing is as it seems.
Let your senses come alive as you choose from sweet, sour, savoury, or salty flavours which will be presented in a perfectly packaged Pandora's Box.
These will be served with their own unique balloon which will burst and rain down the scent of your chosen flavour.
Once completely immersed, you will be able to indulge in your chosen cocktail and food experience, but be prepared, don't let the look of burgers, or vanilla slices deceive you, there may be more to the flavours than meets the eye.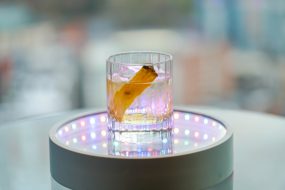 Or if it's just a cocktail you fancy, the Cocktail Emporium will serve a selection of classics, but not as you know them.
An Old Fashioned may not taste as you expect, and a Daiquiri could change before your very eyes.
This magical experience will be available from 15th March in Cloud 23, Hilton Manchester Deansgate.
To make a reservation at Cloud 23 visit www.cloud23bar.com. Alternatively call 0161 870 1670 or email cloud23.manchester@hilton.com.