An exhibition co-curated by a Manchester Fashion Art Direction lecturer celebrating how the North is depicted in photography, fashion and art has opened at Somerset House in London.
North: Fashioning Identity is the work of Adam Murray, Senior Lecturer at Manchester School of Art, in partnership with independent curator Lou Stoppard. It was previously on display at the Open Eye Gallery in Liverpool earlier this year.
The show features over 100 photographs, fashion garments and artworks from a host of renowned photographers, designers and artists including Alasdair McLellan, Corinne Day, Mark Leckey, Jeremy Deller, Raf Simons, Paul Smith, Off White's Virgil Abloh and Peter Saville. It opened last week at the East Wing Galleries, Somerset House and runs until February 4 2018.
In the exhibition, contemporary photography, fashion collections and multimedia artworks sit alongside social documentary film and photography, highlighting how the realities of life in the north of England captured in the 20th century continue to influence new generations of photographers, artists and designers.
Adam Murray said: "Lou and I are very happy that the exhibition has toured from Liverpool to London.  I hope that the students I am working with at Manchester School of Art will be inspired by it and consider how important these formative years studying in Manchester will be on their future practice."
National and international media have covered the opening – including the likes of the New York Times. As part of i-D's week celebrating the best in Northern art and culture, Murray's students India Raine Stephenson, Oliver Perry, Lauren Black and Noah Redman-Bennett from Fashion Art Direction at Manchester Metropolitan University also created projects reflecting on their own Northern identity.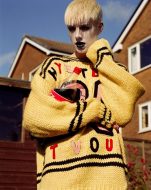 North: Fashioning Identity unpicks the themes and tropes present in these collective visions of northern England, from Berwick-upon-Tweed to Birkenhead, Doncaster to Preston, considering why these regions, or representations of these regions, are increasingly a source of inspiration and still so idealised today.
Many of the works offer personal reflections on the artist's sense of northern identity, including a number of interview films, produced by SHOWstudio, with northern born-and-bred talent on how their homes have influenced their creative output over the years.
However it is not just homegrown creatives, but also admirers from further afield who are shaping and spreading narratives of the North. The international impact and far-reaching resonances of northern style and culture – its music, film, sport, fashion, landscapes and communities – are also showcased in the exhibition, from Belgian-born Raf Simons' parkas with Peter Saville prints to the Haçienda-inspired designs of American fashion designer and creative director of Off White, Virgil Abloh.