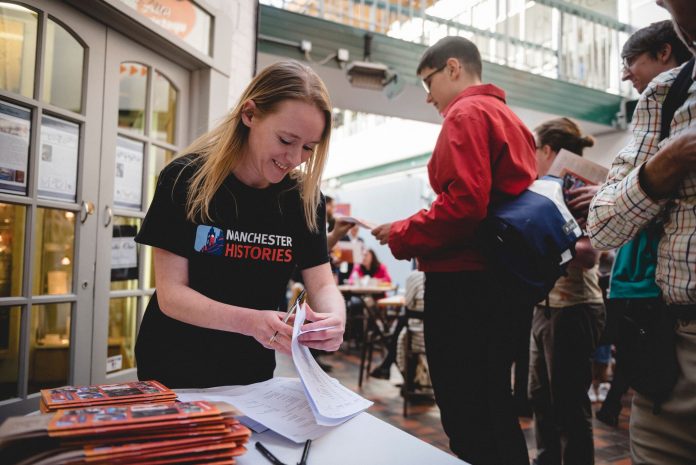 The 5th Manchester Histories Festival (7-11 June) will be reaching its crescendo in a day of family fun with the extraordinary Manchester Histories Celebration Day on Sunday 10 June at Manchester Central Library.
Over 60 of Manchester's historical and cultural organisations will be filling this magnificent venue for one day only, putting on exciting demonstrations and interactive displays that rejoice in the city's diverse and fascinating histories. In a landmark year, in which the centenary of the first women getting the right to vote is marked, the themes running through the festival and the Celebration Day event are protest, democracy and freedom of speech.
Amongst the exhibits, visitors of all ages can read up on the John Ryland's fascinating collection, uncover the wonders of the universe with the Manchester Astronomical Society and try out a new style with the Stockport Hat Museum. History enthusiasts can uncover intriguing stories from the experts and enjoy presentations from independent historians on topics including Manchester's Forgotten Reformers.
There's plenty of chance for kids to get hands on with history, by trying out Protest Printing with a workshop from the renowned Hot Bed Press or creating their own Suffragette sash or protest loudspeaker with artist Lydia Melling.
Film premieres from M13 Youth Project and Niamos-Vox box will showcase local history as captured through the eyes of young people today and innovative original performances including the acclaimed new suffragette inspired play She Bangs the Drums.
The iconic reading room will host musicians and soundscapes from the sellout performance of Manchester Hill Remembered produced by Brighter Sound, Manchester Histories and Manchester City Council. The work commemorates the lives lost during this often forgotten battle of the First World War.
Putting a spotlight on another fascinating area of local history, Spinning Dreams: Happiness in a Lancashire Cotton Town in the 1930's is a programme of talks and dramatic performances staged by Bolton University, drawing on Bolton's identity as a Mass Observation Worktown.
The Hallé choirs and Manchester Community Choir will be performing throughout the day, celebrating the art of protest songs, and permeating the venue with a magical atmosphere.
All in all, it's a day not to be missed for anyone who wants to learn a bit more about Manchester's amazing radical past and to enjoy some free family fun with a historical twist!
Manchester Histories Festival is led by charity Manchester Histories, for the full listings and further information visit:www.manchesterhistories.co.uk