Wood is One: join Simon Wood to celebration Wood Manchester's 1st birthday!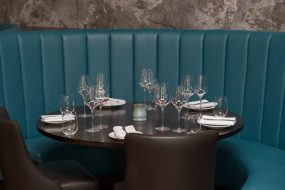 Simon Wood is celebrating his first year in business at Wood Manchester with a fantastic month-long celebration!
The winner of MasterChef launched his highly-anticipated first fine dining restaurant at First Street, Manchester, in August 2017. The first year of business for Wood has been fantastic.
The restaurant quickly became a popular venue in Manchester, receiving brilliant reviews from The Guardian and The Telegraph. They've successfully hosted birthdays, anniversaries and many other dinners and sold hundred of Tomahawk steaks on the now legendary Tomahawk Tuesday.
To celebrate smashing their first year, Simon is offered every table* that dines in the restaurant this August the chance to win prizes in his Wood Is One birthday bash. Taking inspiration from Willy Wonka, diners will be given a golden styled ticket with a chance to win a selection of prizes including a free glass of fizz, a cheese board, drinks masterclass or even a free PDR for up to 16 guests.
On the 31st August, there will be a huge celebration and a whole host of other opportunities to win prizes via the restaurants social media channels throughout August.
Simon Wood said; "Opening my own restaurant has been a lifelong dream and the past year has seen that dream come true.  It has been a joy to cook for so many people and give them a taste of my own style of un-intimidating fine dining and it will be a pleasure to give something back to everyone who dines with us in August as we look forward to another successful year!"
For more information or to book a table visit www.woodmanchester.com.
Wood is set to open his second site Wood Chester in 2019 in the brand new Hotel Indigo.