The Lowry Hotel is adding to its five-star offering with a new, indulgent champagne trolley service, now available to guests to enjoy on the sun terrace, which overlooks the banks of River Irwell.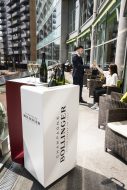 The luxury hotel's new service has arisen as part of their expanding champagne offering, which provides guests with an exclusive selection of champagnes. The new house champagne, Ayala, classic Bollinger champagne and the exquisite Armand de Brignac 'Ace of Spades' champagne, are just a few of the exceptional drinks on offer for visitors to enjoy.
The Armand de Brignac Champagne, priced at £600 per bottle, will be served alongside a delicious set of complimentary hand-crafted canapés.
General Manager, Adrian Ellis says: "Our new champagne trolley service is a great way to add to guest's five-star experience at The Lowry Hotel, allowing them to enjoy our range of champagnes whilst relaxing on the sun terrace."
The Lowry Hotel's Mixologists have developed exclusive luxury cocktails, each carefully fashioned to complement the sophisticated champagnes.
The exclusive range of cocktails are additions to the already extension selection of cocktails at The Lowry Hotel. The three new cocktails range from sweet to classic flavours and are the drinks to compliment the summer weather.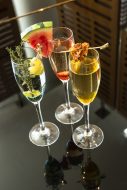 LOWRY CHAMPAGNE COCKTAIL
A twist on a classic, with the ingredients including vodka, gin and brown sugar along with a finishing touch of watermelon to leave the taste buds feeling refreshed.
ROSEMARY 75
The diverse flavours of rosemary and natural aroma of Lanique create a cocktail suitable for those warm summer days.
QUEEN-BEE
The queen of all cocktails is a blend of sweet flavours which includes honey and Licor 43 to satisfy those with a sweeter taste pallet
For more information and bookings please visit www.thelowryhotel.com or follow The Lowry Hotel on social @TheLowryHotel
About the author: 
Marie Harwood is a Digital Marketing Assistant at Different Gravy Digital, Hale, Cheshire.
Different Gravy Digital are a full service Digital Marketing Agency operating in the Hospitality & Leisure, Financial Services, Legal & Property sectors.  Products and services range from; 3D & 360° Tours, Website Design & Build, Social Media, Video Production, Search Engine Optimisation (SEO), Content Creation, Email Marketing, Online Feedback / Review Systems and Paid Advertising (Google, Bing and Social Media).
Contact Details:
marie@differentgravydigital.co.uk
0161 706 0004
120a Ashley Road, Hale, Altrincham, Cheshire, WA14 2UN