On the back of the recent successful in-conversation event with Clint Boon and Mike Joyce, the iconic venue will be hosting another event to raise funds for projects for its young members.
Hooky and Mani will be holding court for the evening, relaying all manner of stories from life on the road, the Manchester music scene ~ past and present ~ and no doubt a few surprises. With Pete's time in Joy Division and New Order, and Mani's in The Stone Roses and Primal Scream, they have an impressive and extensive musical history ~ with their paths intertwining in 2005 when they formed Freebass, along with The Smiths' bassist, Andy Rourke and singer, Gary Briggs.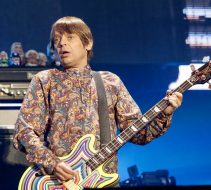 The two bassists are both huge Manchester United fans, so this is likely to be another topic under discussion during the evening. Mani regularly appears as a football pundit on various radio and TV shows. Pete is currently touring the world with his band, Peter Hook & The Light in between making appearances at the Hacienda Classical nights and they are both big supporters of Salford Lads Club.
As part of the in-conversation event, there will be a Q&A, to allow members of the audience to ask Pete and Mani questions, so it promises to be a thoroughly entertaining evening.
Salford Lads Club is run by a team of volunteers, who will be happy to show everyone around and talk about the famous club's history. This event will also provide an ideal opportunity for the audience to have a look at the incredible Wall of Names and The Smiths Room, which now has two amazing giant hinged panels to display the increasing amount of photos and post-it notes by fans.
Salford Lads Club merchandise ~ including the limited edition latest t-shirt designs ~ will be on sale throughout the evening.
Tickets are £12 each online or £15 on the door.

Doors and bars will be open from 

7pm.

 The event will start at 

8pm.

 

All profits from the night will be going to Salford Lads' Club and the kids/members' activities and events.