The Alchemist's latest venture has opened at Media City, the golden palace as it has been already termed in a prime spot overlooking the Lowry, the Imperial War Museum and the BBC and ITV studios.
The £1.2m development has been created by Manchester based Reid Architects, reflective of the energetic and creative environment in which it is located.
In conjunction with construction specialist Artez Group, they have delivered a landmark, futuristic building which includes bold and modernist features, from the angular blackened steel and bronze bar, to the dazzling gold clad roof and walls.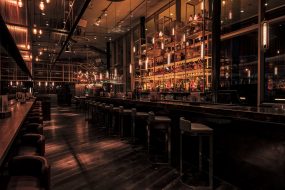 The bar wraps around from the interior to the enclosed outdoor terrace which will be ideal for al fresco drinking and dining, offering sweeping views of the water and the surrounding area which still gives a glimpse of the enduring and fascinating legacy of Salford's industrial heritage.
This was former Living Ventures owner Tim Bacon's dream spot.Tim who tragically died last year, waited from 2012 for its unique location to become vacant and people visiting Media City will have noticed the building slowly taking shape over the last year.
The venue has 96 covers in a 4,900 sq ft space, and has created up to 60 jobs in the area.
Open all day for breakfast, lunch and dinner, the carefully crafted drinks menu ensures a cocktail selection that is second to none including classics such as the Smokey Old Fashioned and new additions such as the Battenberg.  The utmost care is taken in sourcing and using the finest ingredients, coupled with molecular drinks-making techniques which will surprise and confound every palate!