Thousands of people young and old filled Manchester's Heaton Park last night to mark the 100th anniversary of the start of the Battle Of the Somme.
Part of an international day of commemoration events, Heaton Park – once home to the Manchester Pals regiments who used the park as a training ground before going out to fight in the First World War – was the venue for the national concert of commemoration of the Battle of the Somme.
Hosted by Radio Five Live's newest presenter Nihal Arthanayake, this included performances by the world renowned Halle orchestra conducted by Sir Mark Elder of pieces including 'Banks of Green Willow' by George Butterworth – who was himself tragically killed at the Somme in August 1916, a 300 strong children's choir made up of youngsters from across the UK singing songs from the First World War accompanied by the Halle and the first performance by poet Lemn Sissay of his brand new poem 'Listening Post' that was written especially for the centenary of what has become known as the bloodiest battle of the First World War, battle that saw 19,240 men killed on the first day of battle on 1 July 1916.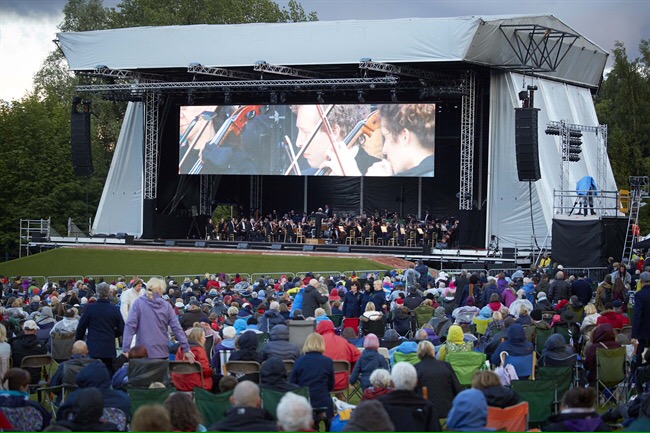 The event also saw the completion of the Path of the Remembered – a physical pathway through the park made up of 5000 clay tiles or 'memory squares', each one of them designed and dedicated by members of the public to commemorate someone who fought, died, was wounded or otherwiseinvolved in the battle.
Many of the tiles had been hand carved at special workshops held over the last few weeks, whilst others bore the often very moving and poignant images and individual designs that have been uploaded to the 14-18 Now website since May, as part of a digital Path of the Remembered created to commemorate those involved in the Somme.
Alan Lane, Artistic Director of the evening concert, said: "The concert brought with it a huge sense of responsibility to both honour and respect what has gone before and the price paid by so many at that time, whilst also looking beyond the past to the future and our hopes about what this might bring."
Adding
"The enthusiasm and determination of the volunteer dancers, performing alongside our dance professionals will stay with me from these last few weeks, as will Lemn's performance of his new poem that looked insightfully to our past whilst also providing a clarion call to a collective, hopeful future."
Photo Credit to Mark Waugh