After a wait of over four years, tomorrow 22nd of March will finally see the reopening of Manchester's Central Library in its eightieth anniversary year.
The Central Library has been transformed after a £50m makeover with thousands of its books stored down Cheshire's salt mines whilst building work took place.
The second largest public library in the UK will be a major cultural destination and according to the council, aims to attract two million visitors a year,twice the previous number.
It has, we are told , been designed as an inclusive space, appealing to families, children and young people, and even aspiring entrepreneurs as much as more traditional library audiences.
Opened in 1934 by King George V, who described it as a "splendid building" which offered "magnificent" opportunities for the city, it's central piece is its famous Reading Room, lovingly restored while new features fit for the digital age have been created.
These include:
A new Media Lounge, equipped with Apple Mac computers including creative software for would-be filmmakers, designers and gamers. Central Library offers superfast broadband throughout and has almost 200 computers for public use.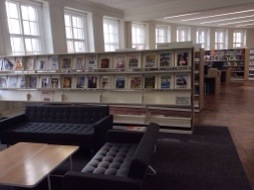 The Archives+ Centre, a destination of national and international significance for anyone interested in local or family history, bringing together an array of archives under one roof. Interactive interpretations and viewing stations for film archives will bring history alive.
This includes the North West's first BFI Mediatheque where visitors can enjoy a wealth of film and TV for free, including a special collection devoted to Manchester and the region on film. BFI Mediatheques offer a window on the collections of the BFI National Archive, the most significant collection of film and television in the world, allowing unprecedented access to our moving image heritage. Most of the titles are not available on DVD or online. Visitors can watch as much or as little as they like: sit back and enjoy an entire feature film, take a look at fondly-remembered television shows, use the database to search for favourite subjects or discover unexpected delights among the 2,500+ available titles.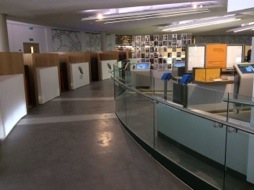 The Children's Library, is a 'Secret Garden' waiting to be discovered. Themed on the classic book by local author Frances Hodgson Burnett, it has been transformed to create an exciting hive of activity for children to enjoy. Digital interactive screens and interactive floor projections are some of the new technologies being used to entice an inquisitive younger audience into the library – with bees, the Manchester emblem, among the insects that little ones will be able to spot in the 'undergrowth' projected onto the digital wall.
The Business Library, one of only six Business and Intellectual Property Centres in England and a place where would-be inventors and entrepreneurs can access a wealth of information and one-to-one support from business advisers and even patent attorneys.
City Library, a new lending library on the lower ground floor providing an extra 2,000 sq metres of library space.
Opening up Central Library has been another major theme of the transformation. Previously only 30 per cent of the building was open to the public and 70 per cent behind the scenes. But an imaginative redesign, in consultation with English Heritage, has opened up the library and reversed these ratios.
The building is easier to get around too, with three new lifts and five new entrances including overground and underground links to the Town Hall Extension.
Meanwhile regained in the reading room is the quote from Proverbs 4 which has always encircled the dome: "Wisdom is the principal thing therefore get wisdom: And with all thy getting get understanding. Exalt her, and she shall promote thee. She shall bring thee to honour when thou dost embrace her. She shall give to thine head an ornament of grace; A crown of glory she shall deliver to deliver to thee."