The Royal Toby Hotel restaurant has just been re-opened after a dramatic £200,000 re-fit taking in both Victorian and contemporary influences for a luxurious eclectic finish.
The former Victorian manor house is a popular restaurant, 53-bedroom hotel and wedding venue, set in the suburb of Castleton. The restaurant and bar were closed for a month across January and February, while interior decorators got to work on the stunning transformation.
The hotel and Italian restaurant Cenetta remained open for business during the work and re-decoration. The Royal Toby restaurant and bar re-opened mid-February, with a soft launch for friends and guests and is now busy doing at least 200 covers a night at weekends.
Managing director of the Deckers Group Max Brierley said: "We are more than thrilled with the renovation and re-decoration of The Royal Toby and have been overwhelmed with the feedback from our regular guests, some of which have been visiting with their families for at least 25 years.
"We are really happy that our scheme has a distinct nod to the Victorian era when this stunning building was first created, but with a very modern luxe feel to it."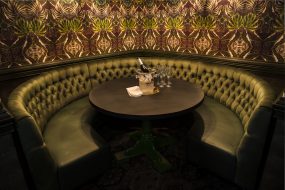 Using Victorian inspiration, the makeover features a lot of pattern, including botanical prints and lots of texture. Each area of the bar and restaurant has a very distinct feel to it, creating cosy areas for families or friends to connect over good quality food and drinks. The study, which is a separate room at the end of the dining restaurant, has been given a very light and fresh look, making it perfect for civil ceremonies.
The restaurant's much-loved chandeliers were removed and each crystal polished by hand, many more crystals added on, and given an ultra-contemporary look with a copper collar. All the designs and interiors were managed by Sam Tinsley at Tinsley Wood Interior Design, who has worked closely with the Deckers Group for many years.
With a focus on good quality ingredients, the new menus feature modern British food with the retro chicken Kiev being incredibly popular since launch. The Royal Toby is well-known throughout the region for its top quality steak, which comes from Deckers' own butchery. The menu shows off their butchers' skills through dishes like the bourbon-smoked porterhouse. Guests can also choose to elevate their steak dishes further by selecting additions like the sublime half lobster tail.
The bar features a new range of top quality gins which have been extremely popular with guests during the opening. Alongside the traditional big brands, sit a collection of specifically-chosen craft gins, including Faith & Sons, a smooth aromatic dry gin, which comes from a micro-distillery in Manchester. Its botanicals include coriander, licorice root and lemon verbena. Served with 1870 tonic, orange zest and juniper berries, this gin delivers a hearty helping of citrus scent with lingering earthy spice aftertaste.
The Royal Toby hotel and restaurant was originally a manor house called The Rhyddings, which was built at the turn of the century by businessman Ernest Tweedale. He later added on the magnificent ballroom, which is now the restaurant dining room, for his daughter's eighteenth birthday.
Ernest was the son of Samuel Tweedale, one of the founders of engineering giants Tweedale and Smalley. The family were popular in the area and believed in free trade and hard work, and created a huge amount of employment for local families.