The Odeon at the Intu Trafford Centre will be the first place in Europe from this Friday where you will be able to experience immersive, multi-dimensional virtual reality experiences.
The IMAX VR experience features a unique combination of premium technology and world-class content that lets users see, feel, move and play in new worlds in a powerfully immersive and realistic way, much like IMAX® cinemas offer cinemagoers a differentiated and best-in-class film experience.

With groundbreaking VR headset technology, 360-degree sound and sophisticated room tracking, players will be instantly transported into new interactive virtual worlds that are more realistic than anything imaginable.
"We are excited to join forces with our longtime partner ODEON to unveil the next evolution of immersive entertainment in Europe – starting with the launch of the IMAX VR Centre in Manchester," said Giovanni Dolci, Managing Director, Europe & Africa, IMAX Corporation. "IMAX VR brings the best VR technology and content together in a highly social and interactive setting that will let you and your friends become a part of the experience like never before."
The Centre, which is located in the lobby of the ODEON at intu Trafford Centre, employs a new design – proprietary to IMAX – that consists of ten "pods" to allow multiple players to enjoy highly interactive, exciting, moveable VR experiences in an extremely social environment.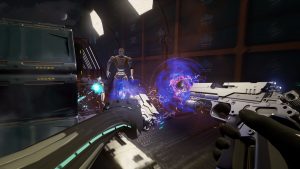 The pods, which are designed to optimise user mobility and interaction in virtual environments, can be adapted for specific content experiences – whether single or multi-user. With its multiplex pilot locations, IMAX is testing VR's ability to draw younger audiences, particularly millennials and Gen Z, to the cinema in greater numbers.
Mark Way, Managing Director ODEON Cinemas Group said:
"Our ODEON at the intu Trafford Centre is already one of the most innovative and popular cinemas in Europe, and now the launch of  the IMAX VR Experience will make it one of the most unique cinemas in the world. Our guests will be awe-struck by the power of the IMAX technology and the quality of the content from the world's most creative studios and developers. We have a great history of working closely with our partners at IMAX to bring guests the very best entertainment, and this is another massive step forward. We're delighted that our guests in Manchester will the first in Europe to enjoy it, and look forward to welcoming everyone to an unforgettable experience."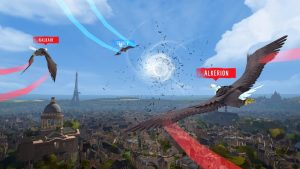 IMAX will provide the Experience Centre with an ongoing array of new, premium interactive content experiences that are each expected to range between 8 and 15 minutes in length. Content experiences featured at the ODEON at intu Trafford Centre include IMAX VR exclusive runs of Ubisoft's Star Trek™: Bridge Crew Rescue at Perseph and the newly launched Justice League: An IMAX VR® Exclusive from Warner Bros.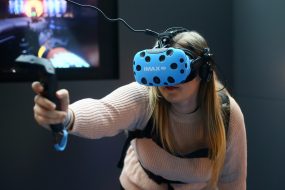 IMAX has launched pilot IMAX VR experience Centres in Los Angeles, New York City, Toronto and Shanghai and is expected to open up to five additional experience Centres in the U.S., Asia and elsewhere in the coming months. IMAX plans to use these pilot locations to test several elements, including the overall customer experience, pricing models and the types of content featured. 
IMAX has partnered with Google to develop a cinema-grade VR camera that will enable today's leading filmmakers and content creators to deliver the highest-quality 3D 360-degree content experiences. The companies expect to launch the new camera in mid-2018 and IMAX will leverage the resulting content for its centres.