Manchester has transformed over the last few years, becoming a regenerated city that different types of people are interested in for many reasons.
As one of the main Northern Powerhouse cities, Manchester truly has been and continues to be developed throughout, attracting interest from across the globe.
With a booming economy, four universities, a student population of over 100,000 and an array of big organisations operating in the area, Manchester has a lot to offer, making it no surprise that it is a very profitable place for buy-to-let investments.
The Best Manchester Locations for Investment
There are many areas of Manchester that can bring success and profit out of an buy-to-let investment opportunity, but like many cities, it does have a selection of particular areas that are considered to be some of the best. Amongst the best areas for property investing in Manchester are:
City Centre – As is almost certainly expected, the city centre of Manchester is one of the very best places to invest in the whole city. The area has transformed over the last decade, with the introduction of offices and apartment blocks on a regular basis, creating a fantastic city skyline. The city centre is booming, seemingly busier than ever, with a particular focus on off-plan property being the driving force behind such a big change.
The city centre is very popular with young professionals, and so the constant production of apartment blocks is welcomed with open arms by the city, especially as this seems to be having a fantastic impact on the economy. Although off-plan property does have its risks, if you are able to find the right development, you could see fantastic returns on your Manchester property investment.
Droylsden – If you have a quick profit investment in mind, then Droylsden may well be the place for you! Close to the city centre, Droylsden offers residents the opportunity to be close to a whole host of transport links, shops, bars and restaurants, whilst investors can often make a good profit in relatively little time here.
Over the last year, property prices in Droylsden have increased by more than £4,000 which, from a low initial cost, can make you a nice profit in such a short amount of time. Demand for property is high in Droylsden, and rental yields of approximately 7% can be expected, so whether you are looking for a quick profit or a longer-term investment, Droylsden could be your next investment location.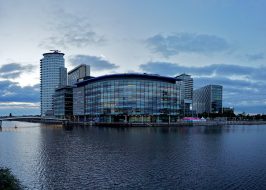 Salford – The area of Salford is very well located, being just a short walk away from the city centre and being home to the renowned MediaCity. Big things are expected for Salford, with a big potential for growth in the coming years making Salford a very exciting prospect. Salford is also of course home to Salford University, which attracts many students each year, all of which are looking for a place to live. As Salford is so ideally located, with a yearly influx of students and fantastic prospects, it truly is a place that investors should be considering, especially given that strong rental yields can be expected. The area is sure to experience huge growth in the coming years, so why not take advantage of one of the many student property investments located in Salford.
M14 Postcode – Currently achieving average rental yields of almost 8%, the M14 postcode is one of the best for buy-to-let investing in Manchester. With a Southern proximity to the city centre, Fallowfield, Moss Side and Rusholme are all housed within the M14 postcode, with the main University of Manchester campus making this the most popular residential area for students. The Moss Side area has been completely transformed through investment over recent years, leaving behind its former life of riots and gang violence.
M6 Postcode – The M6 postcode is considered to be the very best for rental yield performance, with an average of more than 8%, ranking 14th in Totally Money's top rental yields in England, Wales and Scotland. Claremont, Langworthy, Pendleton and Salford are all part of the M6 postcode, proving to be a great location close to the city centre, as well as the nearby university in Salford. This postcode attracts a whole variety of people, with young professionals and students flocking to the area to be close to everything that they want and need.
For more information on investing in Manchester, please contact Hopwood House.