"We're premium not fine dining and it's the casual side of us that keeps us going"
We are at a special press evening at the George in leafy Worsley.Those not acquainted by the name or the location, this is the gastro pub which opened just over two years ago, set up by three school friends.
If you have heard of it, it is probably because one of those school friends is Ryan Giggs, who lives just up the road and whose post playing career has seen ventures in hospitality, food and hotels as well as buying a football club and, I nearly forgot, being assistant at Old Trafford.
But this evening wasn't about Ryan, although we did banter about your writer following Droylsden FC, a club who shared the same league at Salford City last season.
Instead this is the occasion of the unveiling of the new autumn menu.
We were greeted with bar manager Simon Dunphy's hand designed Lychee or Basil and Agave Daiquiri's and an array of sumptuous canapés. The Avocado and Pomegranate Dragon Roll, Jamon Iberico Cured Meats and Chicken Liver Parfait were made into canapés all to showcase starters from the Autumn/Winter menu.
Before the main dining occasion, I sneaked a quick tour around the George and could see that this was far more than a gastro pub, exclusive dining areas upstairs, intimate areas for business meetings and places you can just drop in for a drink and a snack.
I am told the breakfasts are not to be missed and promised to sample them at a later date.
There was some opposition to the venue from the locals when the plans were first proposed but as fellow Director Bernie Taylor said to me, those fears were quickly unfounded once the venue opened.
The name of the restaurant comes from a link to the village of Worsley, the architect Sir George Gilbert Scott, who designed the village church, St. Marks and resided in Worsley for periods during its build between 1844-46.
And so to the main event, a sumptuous tasting menu designed to showcase head chef Andrew Parker's culinary abilities.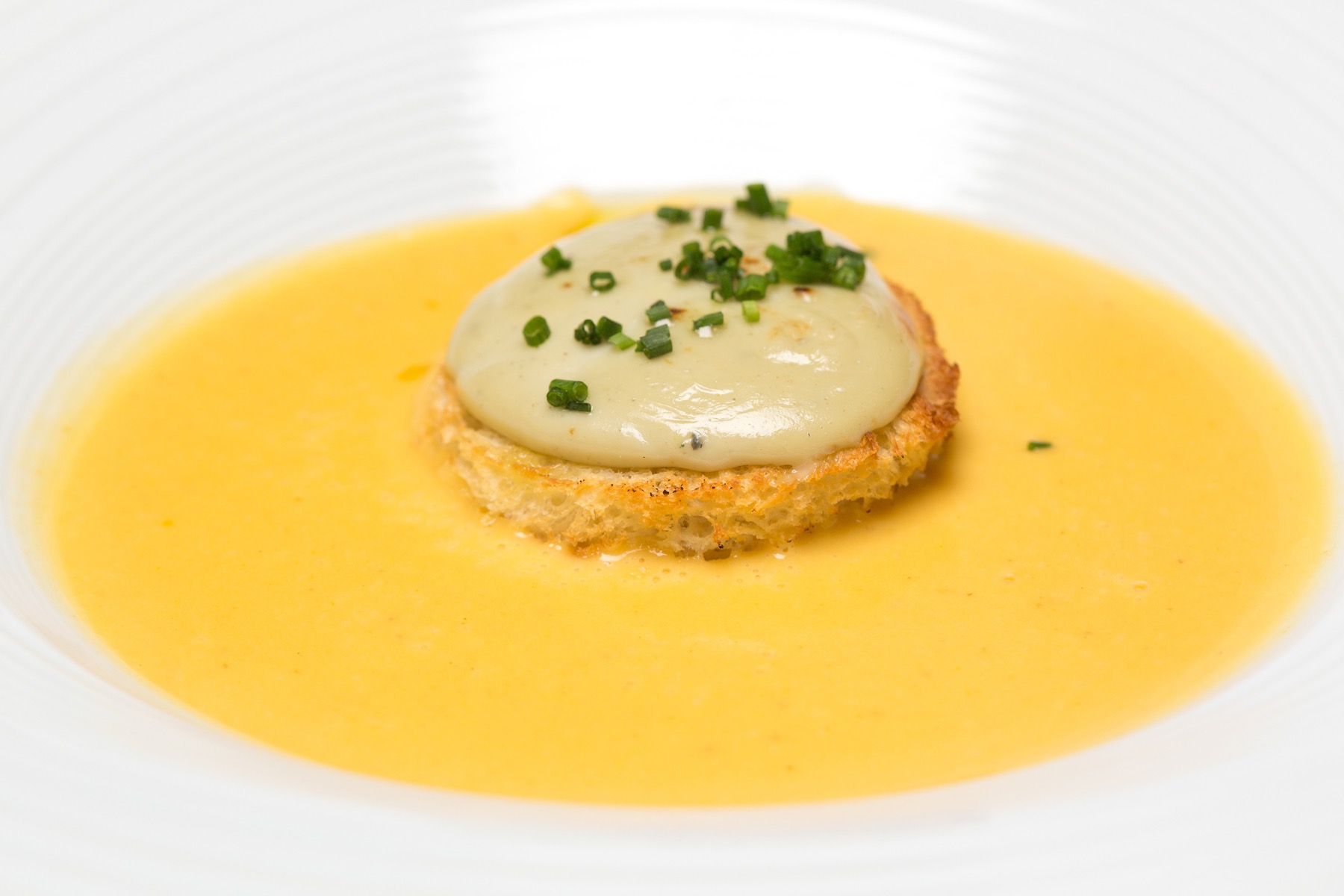 And sumptuous there were. A Selection of Homemade Breads followed by Sweet Potato Soup with Garstang Blue Cheese Rarebit, have to say that was my favorite taste of the night.
Then came a Wild Mushroom Ravioli with Cepes, Parmesan Cheese and Bearnaise was then served before the fish course, Red Wine, poached Monkfish Tail on a Chive Risotto, topped with Crispy Leeks.
The meat offering was next with a delicious Corn-fed Chicken Breast served on Puy Lentils with Sprouts and Parsnip Crisps.
After that a short break, well needed as our pallets were refreshed by a Lime Sorbet and Mojito Espuma, leaving just enough room for an Assiette of Desserts- Bramley Apple Pannacotta, Caramel Shortbread and Clementine Doughnut.
"We are confident that the Autumn/Winter menu will be well received by all our customers and the food has been complimented with the cocktails and extensive wine list." says fellow Director Kelvin Gregory.
"Are there any plans for expansion?" asked the three after dinner. Not at the moment came the reply, "we want to grow the reputation of this place."
And Ryan added:
"George's is definitely securing its place within the restaurant maps of Greater Manchester and we're keen to make people aware that it's not just premium dining that we offer, we have traditional classic dishes and also serve breakfast, lunches and afternoon tea. Myself, the other directors and all the staff believe in the George's brand which makes me excited to see the restaurant and bar grow into the future."