A Memorial Wall dedicated to local people who lost their lives in the First World War has been created at Radcliffe Library.
It has been lovingly put together by staff and volunteers from the library's family history mornings, and is updated every month. It lists the names and details of local servicemen and women who died in the corresponding months throughout the conflict.
Among those remembered this month is Gertrude Jones, a nursing sister who died aged 31 when her hospital ship HMHS Salta was sunk by enemy action on 10 April 1917.
Gertrude is the only woman out of 642 Great War victims commemorated on the Radcliffe Cenotaph. A special reserve with Queen Alexandra's Imperial Military Nursing Service, she was on the HMHS Salta, a French steam ship that was requisitioned as a hospital ship during the war.
On 10 April 1917 it was picking up wounded soldiers at the port of Le Havre when it struck a mine laid by a U-boat. Of the 205 passengers and crew members, nine nurses, 42 members of the Royal Army Medical Corps and 79 crew drowned. A British patrol boat attempted to assist, but also struck a mine and sank.
Gertrude was laid to rest in St Marie Cemetery in Le Havre, and is commemorated on a tombstone in Stand Unitarian Church yard, alongside the name of her husband Charles.
Community library assistant Julie Taylor said: "This is our way of paying respects to the 642 local men and women who died during the First World War, using the information we have gathered from the Radcliffe Times and other sources. The public can look at the wall during normal library opening hours.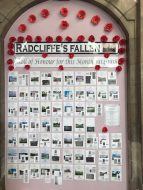 "This morning we have had a gentleman in who is over from Australia visiting relatives and has found a photo of his grandad, whose name is on the cenotaph. He has never seen a picture of his grandad before so it is amazing how our display reaches people, even as far as Australia!
"If anyone is interested in finding out more about their family tree, we have free family history sessions run by expert family history volunteers every Friday morning from 10am to noon."
Radcliffe Cenotaph was designed by Sydney March, who also designed the memorial in Stand Churchyard, Whitefield. It was erected in 1922 at a cost of £5,000, with sculptured figures in bronze representing Victory, Peace and Liberty.
It lists the names of 642 names of Radcliffe soldiers who fell in the First World War and a few who died later from wounds caused by active military service, as well as the names of soldiers who died in the Second World War.