Northern Monk Brew Co will be opening the doors to its second UK tap room this weekend, located in one of Manchester's most bustling destinations, Northern Quarter.
In March, Northern Monk Brew Co, who are rated as one of the world's top 100 breweries by Ratebeer, launched a crowdfunding campaign with a goal to raise £500,000. Incredibly, the target was exceed in only three hours, and the investment was closed with £1.5m raised through 2161 investors.
Northern Monk Refectory MCR will be located at 10 Tariff Street and will open their doors to the public from Saturday 29th September.
The two-floor tap room will boast 16 keg lines, 4 cask lines and 3 draft cocktails, as well as four classic mixed cocktails. The venue will also serve a fabulous food menu of Northern-inspired small plates, the perfect dishes to share with friends.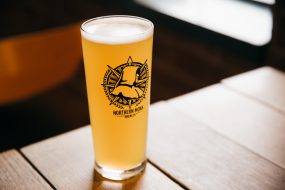 The launch is just one week before Indy Man Beer Con, a four-day craft beer festival taking place at Manchester's Victoria Baths between the 4th and 7th October. As well as exhibiting at the actual event, Northern Monk will be hosting an IMBC fringe event in the basement space of Northern Monk Refectory MCR on Friday 5th and Saturday 6th October, where Garage Beer Co will be running a tap takeover accompanied by a night of UK garage music. The venue will open until 2am on both evenings.
Speaking about the opening of the tap room, Founder of Northern Monk Brew Co, Russell Bisset, says: "It's been four years since we opened The Refectory in Leeds. In that time, we've learnt so much about what makes not just a good beer experience, but a world class beer experience. We can't wait to take the next stage of our journey over the Pennines and into the heart of Manchester's Northern Quarter. We have big plans, and we can't wait to share them with you."
Northern Monk Refectory MCR will open on Saturday 29th September at 12pm. The first 50 customers will receive a free third, as well as a pot-luck Northern Monk goodie bag which could include anything from limited edition glassware and Don't Mess with Manchester tees, to stickers, badges or beer.
After launch, opening times will be midday until midnight Sunday to Wednesday, midday until 1am Thursday and midday until 2am Friday and Saturday.
Twitter: @NMBCo
Find us on Facebook: Northern Monk Brew Co
Follow us on Instagram: @northernmonk