An acclaimed sculptor will be making an appearance at a Manchester gallery this weekend to showcase his highly-anticipated new collection.
Nic Joly will be at Castle Fine Art on King Street on Saturday 9th December, from 1-3pm. Visitors will have the opportunity to meet the artist himself as well as discuss the inspirations and ideas behind his latest set of sculptures,Life's a Carnival.
 Whilst Nic's previous collections have primarily shone a torch on the darker side of human nature, Life's a Carnival celebrates the human existence in all its madness. Themes of love, laughter, mischief, curiosity and exuberance all bubble to the surface, channelled through the peculiar prism of Nic's imagination.
The collection marks a new creative route for the sculptor. Nic has equipped each sculpture with a microcomputer programmed to work with infra-red sensors and nano LED lights which highlight key features in each piece.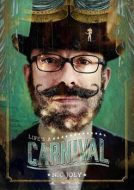 Nic said: "The concept for this collection has been a year in the making. I have wanted to add interaction and light to my sculptures for a long time. The amount of research, testing, late nights and technology has been a steep learning curve, but one that I have thoroughly enjoyed.
 "I am looking forward to showcasing this collection at the King Street gallery. I hope visitors are able to engage with my work in their own special way. Life is a ticket to the greatest show on Earth, so buckle up and let the carnival begin!''
 Nic Beese, gallery manager at Castle Fine Art, King Street – Washington Green's nationwide network of high street galleries – said: ''This show is the first glimpse at some exclusive examples of Nic's new work. Each piece has been created to the finest quality and really has to be viewed in person to be fully appreciated."