With less than 3 weeks to go before the General Election, The John Rylands Library is highlighting a handful of 19th century satirical prints dating from the 1874 general election.
The collection of 132 cartoons, which includes a boat race, a chariot race, a horse race and a foot race, are political in nature, and many relate to general elections or to parliamentary by-elections held in Manchester or Salford in the 1870s.
The 1874 general election was the first to use a secret ballot. The Conservatives, under Benjamin Disraeli won the majority of seats, although the Liberals, under William Ewart Gladstone, actually won a majority of the votes cast.
The poster of The Boat Race for South East Lancashire illustrates the general election of 1874 showing the Conservative candidates for South East Lancashire, Algernon Egerton (9,187 votes) and Edward Hardcastle (9,015 votes), coasting to victory against the Liberal candidates Peter Rylands (7,464 votes) and J. E. Taylor (7,453 votes).
The poster for the general election of 1874 of a chariot race, released before the results were known, shows the Liberal candidates Thomas Bazley and Jacob Bright triumphing in a chariot race against the Conservative candidates Hugh Birley and William Romaine Callender In fact, although the contest was closely fought, the Conservative candidates were ultimately triumphant.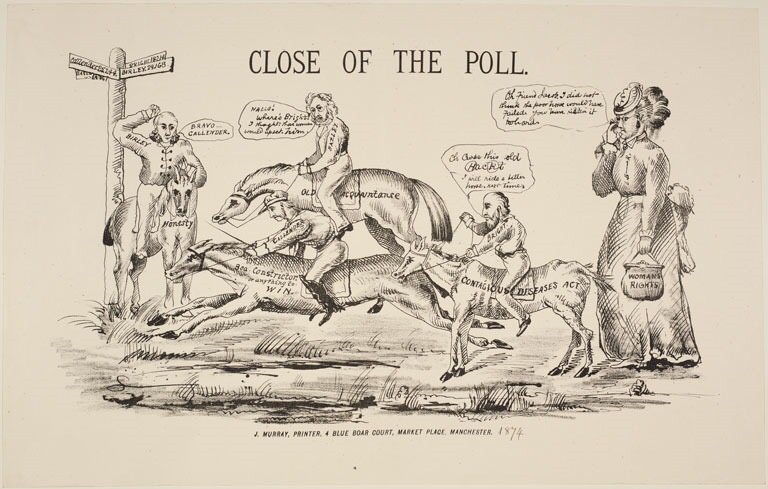 The printer J. Murray seems to be hedging his bets in a pair of cartoons showing a running race and a horse race drawn for the 1874 general election. The Conservative candidates for Manchester, Hugh Birley and William Romaine Callender, are seen to triumph in the horse race, while the Liberal candidates, Thomas Bazley and Jacob Bright, are shown as triumphant in the foot race. The numbers of votes cast (shown on the signposts) are fictitious.
The real result saw Conservative Hugh Birley gain 19,984, Conservative, William Romaine Callender get 19,649, Liberal – Thomas Bazley -19,325, Liberal – Jacob Bright -18,727