A bank robber who claimed to be a member of ISIS armed with a bomb when threatening staff has been jailed alongside his partner at Manchester Crown Court today.
Michael Thorpe, 40  and Rochelle Holman, 32, both of Crossgate Avenue, Benchill, after pleading guilty to conspiracy to commit robbery. Thorpe also pleaded guilty to possession of an imitation firearm.
Thorpe was jailed for 19 years and Holman for seven and a half years.
The activities of the pair first came to the attention of police on 13 July 2017 when Thorpe entered the Royal Bank of Scotland (RBS) in Cheadle Village wearing a motorcycle helmet and passed a note to the cashier claiming that he was a member of ISIS and carrying a bomb.
The note demanded that the member of staff make no sudden movements before handing over cash. Fearing for their life, the cashier did as ordered before Thorpe left the bank on a bicycle and headed round the corner to meet Holman, who was waiting for him on the car park at Mill Lane Cemetery.
The pair then had their getaway car scrapped later that day and used their ill-gotten gains from the bank robbery to buy a new car and a holiday to Gran Canaria.
Over the following months, the pair would plan and execute robberies using the same tactic at financial institutions in Sale, Romiley, Baguley and Bramhall.
During the first two which took place at RBS banks in Sale on 30 August 2017 and Romiley on 12 September 2017, Thorpe managed to flee with thousands of pounds in cash. However despite his best efforts, he was unable to get any cash from robberies at the Tesco Express in Baguley on 20 November 2017 or the Vernon Building Society in Bramhall on 1 December 2017.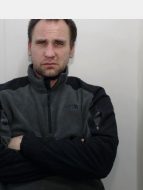 Although the tactic of using the note claiming to be a bomb carrying member of ISIS did not change, the duo would change certain aspects of their strategy.
This included Thorpe dressing in full burka during the robbery in Sale, him carrying empty cardboard boxes at Tesco and carrying a wicker style laundry basket at the Vernon Building Society in an apparent attempt to obstruct his identity from other people and CCTV cameras.
After coming away from their previous two robberies empty handed, the pair decided to change their MO and target a travel agents in Knutsford using an imitation firearm.
On 5 December 2017, the two travelled to a Thomas Cook on King Street in a black Vauxhall Vectra and parked nearby. Holman got out of the car and began scouting the premises before calling Thorpe to provide a report of what she had seen.
A short time later Thorpe entered the store carrying a Christmas tree and the imitation gun. He then proceeded to threaten members of staff, forcing them to hand over cash before fleeing the scene.
Later that same day, officers from GMP's Serious Organised Crime Group executed a warrant at the couple's home address and found damning evidence of their crimes.
This included the Vauxhall Vectra used during the final robbery, a Christmas tree, clothes matching the description of those worn during a number of the incidents, an imitation firearm and numerous notes stating that the holder was a member of ISIS and carrying a bomb.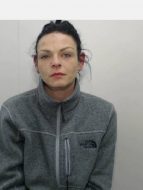 Detective Sergeant Richard Castley of GMP's Serious Organised Crime Group said: "Michael Thorpe and Rochelle Holman used devious tactics to strike fear into each member of staff they encountered during their attempts to make a quick bit of cash.
"Based on the nature of the incidents and the damning evidence we found during our search of their home address, it is clear that they planned each robbery in some detail before executing their strategy. This was not some amateur operation.
"Although Thorpe was the one who entered the bank and made the threats, Holman played a key part in planning the robberies and attended each one with her accomplice lover, waiting for him to return with the spoils of their latest crime.
"They are now where they belong, behind bars and about to spend the coming years with plenty of time to consider whether it was all worth it."