Manchester's Heaton Park has been presented with four Green Flag awards while Alexandra Park in Oldham and Shaw-based Dunwood Park have both been judged to be well-managed and high-quality by environmental charity Keep Britain Tidy.
The environmental charity has been bestowing Green Flag awards on British parks for more than twenty years, as a sign to the public of spaces which boast the highest possible environmental standards, which are beautifully maintained and which have excellent visitor facilities.
Stretching over 640 acres, Heaton Park is the largest municipal park in Europe and offers a huge range of things to see and do – ranging from its newest attraction, Treetop Trek, to established family favourites such as the animal centre, children's play area, boating lake, woodland walks and its stunning centrepiece, the Grade I-listed Heaton Hall.
This year, Heaton Park gained the overall Green Flag award, plus Green Heritage Site accreditation – with Green Flag Community Awards handed to the Manchester & District Beekeepers Association and the Manchester Transport Museum Society.
The Manchester Transport Museum Society runs Britain's only restored tramway from within Heaton Park.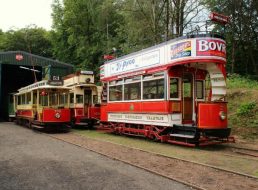 A tram service from Manchester city centre into the park first began in 1905 and was crucial for the many ordinary Mancunians who wanted to visit Heaton Park.
"Heaton Park was Manchester's green lung and acted as a 'back garden' for its citizens. Thousands of people took the tram to the park every weekend", said Jeremy Valentine, treasurer of the Society.
The service into Heaton Park was closed in 1934, but 45 years later, a stretch of the original track was uncovered at the park – and the Society have run a service using vintage trams on the since-extended track since 1980.
Thanks to the Society's efforts, visitors can step back in time by enjoying a leisurely tram trip across the park from the restored original passenger shelter to the boating lake.
Jeremy said: "In previous years, we've worked with the council and other voluntary groups to support the inspection process. We met with the judges last year and they encouraged us to apply for an award in our own right.
"The tramway and museum are both great heritage assets for Manchester as a city, but especially for Heaton Park and so we are really proud to have received this recognition."
The Society hold a growing stock of trams, with the oldest being a horse tram from 1880, through to their most modern, a Metrolink model, from the 1990s. The earliest tram in regular use dates from 1901.
Councillor Barbara Brownridge, Cabinet Member for Neighbourhoods and Co-operatives, said: "Oldham Council is committed to providing high standard green spaces for residents and the news that Alexandra Park and Dunwood Park have retained their Green Flag Awards shows we are on the right track.
"Throughout the borough, families are able to enjoy free, safe and top class facilities on their doorsteps.
"I would like to congratulate the council staff and volunteers who have done a fantastic job in helping us retain these awards."