Cruel as death and hungry as a grave
Burning for blood bony, gaunt and grim
Assembling wolves in torrents descend
And spread wide-wasting desolation around
A new exhibition at the Manchester Museum aims to show that in this centenary year of the beginning of the First World War, that living things resolve conflict in many, often unexpected, ways and aims to challenge the perception that war is an inevitable outcome of conflict.
Its title comes from Charles Darwin's On the Origin of Species, published in 1859 and the exhibition draws on more recent scientific discoveries about the relationships between living things, the exhibition explores the place of war in nature, and the idea of a 'struggle for existence'.
Many species are threatened with extinction, as a consequence of changes to their habitats and because of over-use, often caused by people. While this is very alarming, there is some hope. If people can make space for nature in their lives, by supporting conservation and by being careful how they use resources, people can work together with nature to help maintain a safe and diverse natural world.
Evolutionary biology has found that there is no single way to view living things. They can be selfish and selfless at the same time. Just as it is in nature, humans have found many different ways to negotiate conflict, including collaborating, finding compromises and win-win situations. Far from being inevitable, war is only one possible outcome of conflict.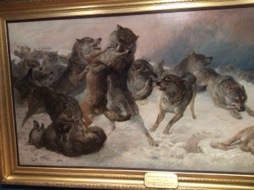 At its centerpiece is a picture on loan from the Walker Gallery in Liverpool.The struggle for existence was painted in 1879 by the English artist George , showing, said a critic, a vision of nature as being violent and competitive.
The head of collections and curator of zoology Henry McGhie said of the exhibition
'The old view of nature red in tooth and claw is no more 'real' than a view of a peaceful nature, or of many other kinds of relationships. Individual plants and animals live in conflict with one another, where they want different things. But more often than not they divide resources up, or avoid actual aggression. The common usage of the word 'conflict' loses those subtleties, but it is surely reassuring to think that people, with great capacity for empathy and collaboration, are not consigned to behave in any particular way, or to justify that by saying it is somehow 'natural
Nought may their course withstand, they bear along
Keen, as the North wind sweeps the glossy snow
All is their prize
From the war of nature
11 April – 7 September 2014, Manchester Museum
Free Entry<