An exhibition charting the remarkable 500-year history of robots is to headline this year's Manchester Science Festival, it has been announced today.
Robots will explore humanity's 500-year quest to recreate ourselves in mechanised form. Featuring a unique collection of over 100 robots, from a 16th-century mechanical monk to robots from science fiction and modern-day research labs, this exhibition will enable visitors to discover the cultural, historical and technological context of humanoid robots.
Among many other highlights will be an articulated iron manikin from the 1500s, Cygan, a 2.4m tall 1950s robot with a glamorous past, and one of the first walking bipedal robots.
In the exhibition, visitors will go behind the scenes to glimpse recent developments from robotics research, exploring how roboticists are building robots that resemble us and interact in human-like ways. The exhibition will end by asking visitors to imagine what a shared future with robots might be like.
Robots first opens to the public on Wednesday, February 8th at the Museum of Science and Industry's sister museum, the Science Museum, in London.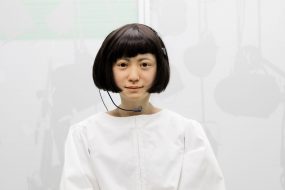 Ian Blatchford, Director of the Science Museum Group said: "This exhibition explores the uniquely human obsession of recreating ourselves, not through paint or marble but in metal. Seeing robots through the eyes of those who built or gazed in awe at them reveals much about humanity's hopes, fears and dreams."
"Robots explores the wondrously rich culture, history and technology of humanoid robotics."
Antonio Benitez, Director of the Manchester Science Festival, said: "Manchester Science Festival is delighted to announce Robots as our first headline event for 2017. This exhibition will be an extraordinary opportunity for our audiences to explore the ways robots mirror humanity and the insights they offer into our ambitions, desires and position in a rapidly changing world."
2017 marks the 11th year of the Manchester Science Festival, which is produced by the Museum of Science and Industry. Last year's event received a record number of visitors, with 136,000 people attending 125 events across 60 venues in the city and across Greater Manchester.
Events included the hugely popular Chronarium – a sleep lab in the Manchester Arndale – and a performance by Public Service Broadcasting.
Robots will open at the Museum of Science and Industry, Manchester, on Thursday, October 19th as part of the Manchester Science Festival. The exhibition will run until Sunday, April 15th 2018 before continuing its tour to The Life Science Centre, in Newcastle, and the National Museum of Scotland, in Edinburgh.