Drumbeats echoed across Lyme Park last week, and on the distant horizon, flashing lights lit up the woods in time to their rhythm.
No, Lyme hadn't become the venue for a mammoth rave. The drums and the lights were the inspiration of artist Sean
Griffiths, who'd been given the task of devising a piece of interactive artwork which would link different parts of Lyme Park's landscape together.
The result is Distant Drumbeat, as Sean explains: "The idea was to use a stone folly, The Lantern which is situated in Lantern Wood.
Lights set up inside the Lantern would be viewed and activated by a contemporary 'lantern' on Lyme's top lawn. Visitors then gaze straight at the original Lantern half a mile away in the wood and strike a series of drum 'pads'. Once struck, the Lantern will light up, according to the rhythm of the striker. In other words, you'll literally be 'playing the landscape'".
"Technically this was a huge challenge as there was no electricity in the Lantern and no mobile phone signal on that part of the estate.
We eventually used a type of microwave signal to send the drumbeats up to the Lantern which then triggered the LED lights which are mounted on a scaffold inside the Lantern. We weren't able to attach anything to the fabric of the building due to its historic importance .
We asked professional drummer Howard Jacob to come and try the installation out for us – and the result was amazing".
The Lantern is a belvedere built in gritstone with a distinctive octagonal spire – which is clearly visible from Lyme's beautiful top lawn.
It is thought to have originally been a bellcote located on the north gatehouse of Lyme Park Hall, but is now separated from the main house.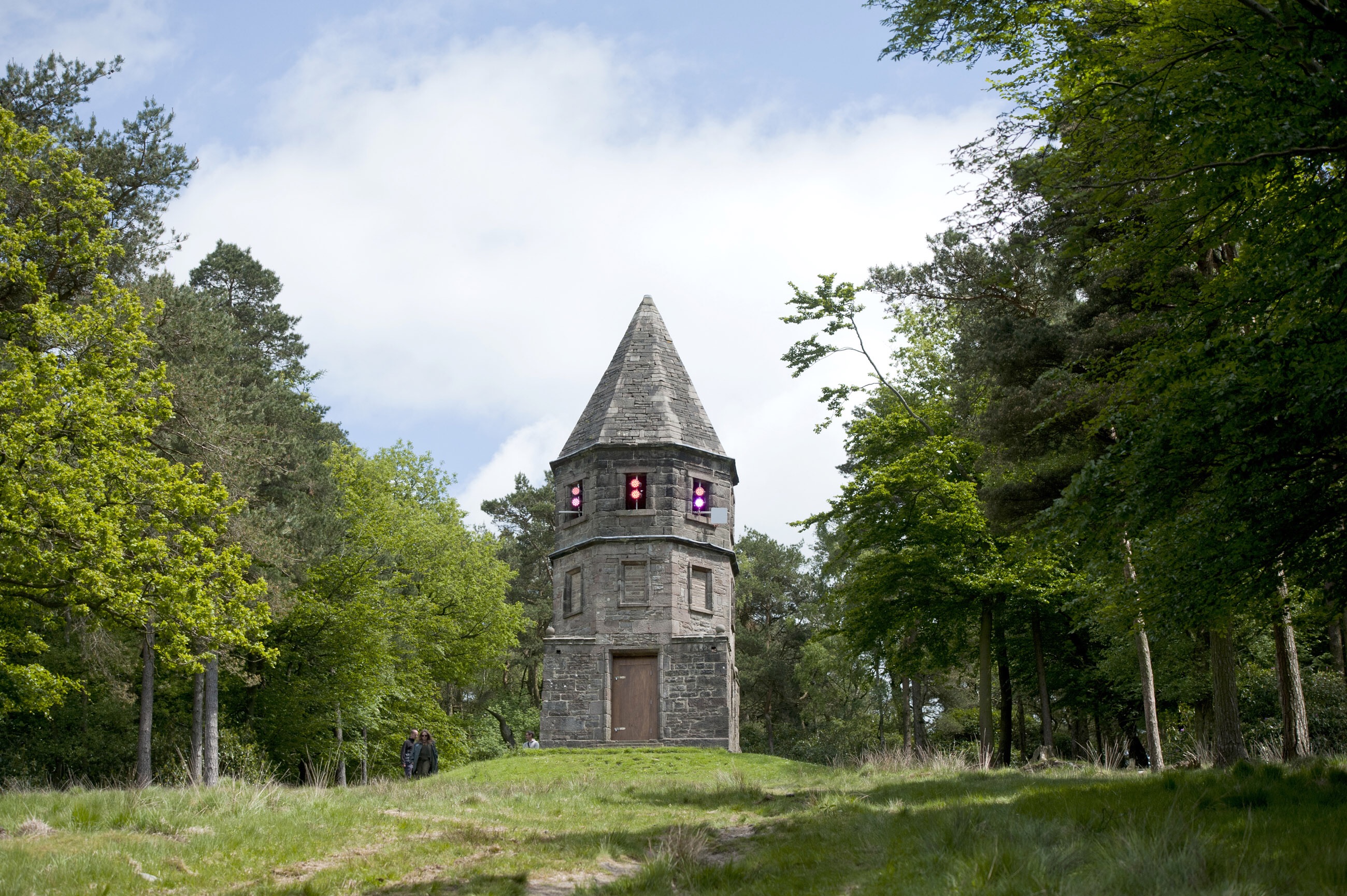 "It's the first time Lyme Park has hosted a piece of contemporary interactive artwork such as Distant Drumbeat' says General Manager Cei Pahynton. "It's the result of a collaboration between the National Trust's contemporary art programme, Trust New Art and New Expressions 3, an Arts Council England Pathfinder Project. So far people have loved the 21st century technology working inthis ancient landscape – and we hope that it will pave the way for similar projects here in future"
Distant Drumbeat is at Lyme until 31 October 2015. For more information go to www.nationaltrust.org.uk/lymepark