Get ready to have your taste buds tingled, because Dishroom is coming to Manchester on Thursday 6th Decemeber!
Fans are invited to help Dishroom prepare for the opening by attending their soft launch. The lucky fans will receive 50% off food at breakfast, lunch and dinner during soft launch, which will run from 9am on Sunday 25th November – 4pm on Wednesday 5th December. Walk-ins only.
Manchester is the latest city to welcome Dishroom. The newest addition will be taking up residence on the ground floor of Manchester Hall. The space is – as ever – a loving homage to the old Irani cafés of Bombay and will accommodate 231 covers between the two dining rooms and the Permit Room cocktail bar. The dining rooms will be open every day from early until late serving Executive Chef Naved Nasir's first-class menus of Bombay comfort food.
For breakfast, guests can choose an excellent range of dishes, including Dishoom's famous Bacon Naan Roll and Sausage Naan Roll. Then there's Keema Per Eedu: a Parsi power breakfast of eggs and spicy chicken keema studded with delicate morsels of chicken liver; Irani café staple Akuri: spicy scrambled eggs, with soft home-baked bread buns; and plentiful (bottomless!) House Chai.
This will be followed by the all-day menu of small plates, grills, biryanis, salad plates, hand-made breads and sides. Of course, Dishoom will be serving its signature House Black Daal, cooked over 24 hours for extra harmony. And the Chef's Special will be a decadent Nalli Nihari Biryani.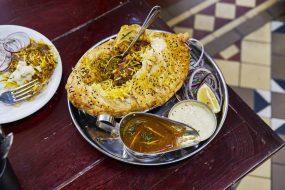 Nihari – a famously hearty and robust dish – is synonymous with celebration. Made into a biryani, it is doubly so. This indulgent special sees tender shank of lamb layered with rice and caramelised onions then sealed beneath a pastry blanket. It is then enriched further with kaleji (chicken liver), raita and nihari gravy on the side.
As with all Dishoom restaurants, for every meal served at Dishoom Manchester, the team will donate a school meal to a child who would otherwise go hungry. A meal for a meal. Dishoom work with two fantastic charities – the Akshaya Patra Foundation in India and Magic Breakfast in the UK – who provide nourishing meals to children in schools. So far, Dishoom has donated over 5 million meals (… and counting!)
The Permit Room and tipples The Permit Room bar – named after the official term for all Bombay drinking establishments, in which, according to the Bombay Prohibition Act of 1949, only permit-holders may consume alcohol – will serve Dishoom 'Daru-walla' Carl Brown's lovingly curated list of cocktails.
In addition to classic favourites like East India Gimlet, Hoppy Butter Paanch and Monsoon Martini, the Permit Room will also serve a range of Dry Cocktails, which earned recognition from Spirits Business: best non-alcoholic cocktail list in 2016. Including Sober Martini, Dry Old Fashioned and Virtuous Tulsi Sour. Each one is a clever drink with a top-secret spirit base that looks and tastes like alcohol, but does not contain a single drop.
Carl has also dreamt up some entirely new tipples, just for Dishoom Manchester.
They include:-
Beram's Cobbler
Named in honour of the dapper Parsi vigilante, master of disguise, and one of the stars of the Dishoom Manchester story. Sultry tropicality of mango and pineapple meets dry manzanilla in a transcontinental crossing.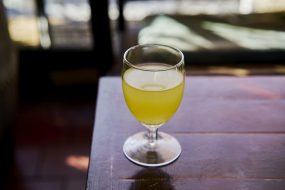 Chevalier's Sour 
Chevalier, or Chaiwala? Mysterious author of The Tower of Silence. Spicy and intricate, with raspberries, tamarind and Rangpur gin.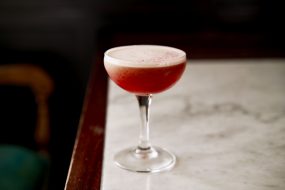 The build of Dishoom Manchester has involved a careful restoration process. The entrance hall still has the original marble green skirting which dates from 1929. The parquet flooring and lead-framed windows in the Front Room have been restored. Extra care was taken in the Dining Hall where the team have retained two enormous stained-glass windows on the South and West sides, the original ceiling and parabolic dome in the centre of the room, and three glass droplet chandeliers.
The Story BOMBAY, 1923.
In which an elusive Irani dupes Sexton Blake in a Freemasons' Hall Bombay, 1923. A smartly dressed Englishman sits on a bentwood chair in Café Excelsior, an Irani café on Ravelin Street. He breathes in the aroma of baking bread, takes a sip of his strong chai and studies his surrounds carefully. The place and the people (families, students, businessmen – all sitting cheek by jowl) make him more relaxed than he perhaps should be. He arrived in Bombay that morning, called by the note now placed in his jacket pocket from enemy-turned-ally, Beram. Its few but forceful words are etched into his memory: "You must come to Bombay. Meet me in the Irani café behind the Freemasons' Hall – I will know when you are there. Your debt has been called."
To read the story in full, click here.