A new art exhibition opens at Manchester's Lowry Hotel next week.Deeper Understanding' is the first solo exhibition in Manchester from Stefanie Trow and features a series of figurative works exploring her fascination with the human, especially female, form. About Manchester met up with her.
The Female form, says Stephanie, doesn't necessarily get a good press in the media.We are inundated with the glamourised, photoshopped images of the ideal figure.
This exhibition, explores both her own and other people's perception of beauty.
People and portraiture has always been her focus she says
"People fascinate me. I enjoy the challenge of mixing colours and palettes to match flesh Having spent several years striving to create photo-realistic paintings."

It is, she tells me, really OK to have flaws and not to be prefect.
Inspired by the likes of Jenny Saville, Francis Bacon and Lucien Freud, and brought up in a household immersed in art, she began painting at sixteen, her first picture at Granada Studios on Quay Street and the Sherlock Holmes set.
Her teachers liked what they saw and Art A' levels led to Art classes at Salford Univertisity for the Yorkshire born girl.

She survived on commissioned work, combined with a job in the prison service until basing herself in Manchester.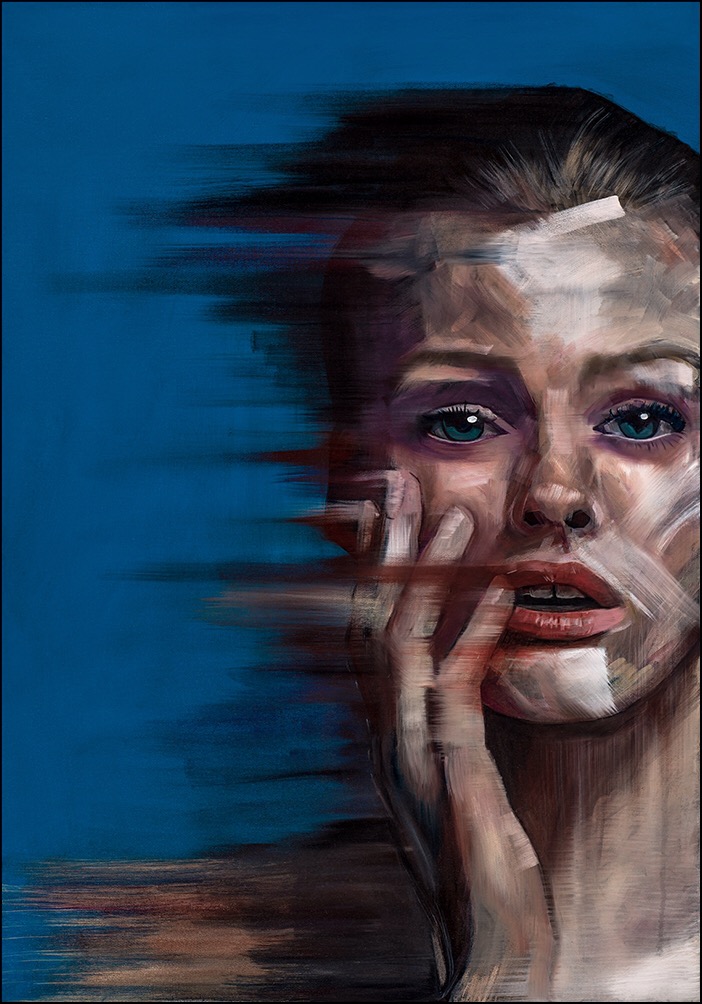 This is her first solo work, a massive learning curve which has seen her complete eleven pictures in around three months with four already painted and expecting a baby at the end of July.
Having spent several years striving to create photo-realistic paintings, Stefanie feels this exhibition will see her leaving that period in her career behind.
Building on those foundations but through working in a more expressive style allows her imagination to be as creative as desired.
This current work now allows her to be more expressive, adding emotion and feelings, and a story to the canvases she works on and using the paintings as a way of interpreting her surroundings and relationships.
What does she want people to take away from the exhibition ?
"people can take what they want of course. That's the beauty of art. I guess if people just take away the fact that they've come into contact with art first hand that's not on Instagram or the website etc. and seen it first hand, that would make me happy. We live in such a frantic time, where images are instant and bombard us constantly. Id just like people to slow down and consider what's in front of them, how its been created and to re-evaluate their purpose and meaning. And I guess in a roundabout way that's what I'm trying to achieve in my work."
The exhibition runs from 21st May until 14th July at The Lowry Hotel and the public are able to view the work 24 hours a day during this time.