The centre of Manchester is going to be invaded by clowns at the end of this month.
Yes you heard it correctly, clowns.
Over two days, the festival Clown Fest will take place in the unique Omnitorium, a pop up 100 seat vaudevillian tent which will be erected in the heart of the city in Exchange Square.
In and around the Omnitorium will be shows and performances for a range of audiences including family shows, activities and walkabout street theatre during the days and shows for adult audiences in the evenings all with the aim of getting Manchester and the North West laughing together.
It is all the brainchild of Mark Winstanley and Alice Robinson, the people behind Clown Lab, both from Manchester and both with a career in creativity teaching at Salford University.They went away to study clowning and returned to the region with a dream of launching their own course.Last year that came to reality as they formed Clownlab, a skill share and training company with their first intake of ten actors and performers based at Hulme's Z Arts.
Many people's image of a clown is from the circus, make up, funny noses, stripy costumers but Mark tells us to think neither circus or scary but instead think of Charlie Chaplin, Norman Wisdom, performers who just love to play. 
We are promised a weekend of family entertainment in the day and adult shows at night featuring top class idiots, Edinburgh previews, award winning and international performers.
So what can we expect? "Absurd, bonkers challenging, family friendly and adult only" says Mark.
For the adults, They have Bob Slayer, famous at last year's Edinburgh festival for reading out the complete Chilcott report on the Iraq War and turning what was a joke into a political event. Whatever next? is his follow up,"a big revelatory ending where we all see the light? That will be as beautiful a surprise to me as anyone."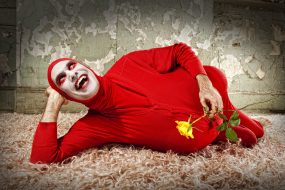 The Establishment present Eton Mess, a side-splitting, stiff upper-lipped hilarity from energetic duo Dan Lees and Neil Frost. Two ultra-privileged British gents struggling to hold onto their whimsical world of cricket, tea and secret arms deals. Prepare to be shocked says Mark for they take no prisoners while Red Bastard  comes to Manchester to expose the lies we tell our lovers and those bastards who made us lie in the first place!
During the day, there is plenty for the younger generation, Cyril the Squirrel who loves magic and can make acorns disappear but can't remember where he buried the nuts for winter. while Captain Cauliflower and Marvin the Mischievous Moose go on an unforgettable adventure, filled with extreme silliness and unquestionable danger.
You can even pay what you want for the family shows, just make sure you book first
LISTINGS
28th &; 29th July 2017
The Omnitorium, Exchange Square, Manchester
Shows run on 28 th July from 11am – 11.15pm
Shows run on 29 th July from 10:30am – 10pm
Adult show tickets from £6.50 – £8
Family show tickets – PWYW (entry can be reserved online)