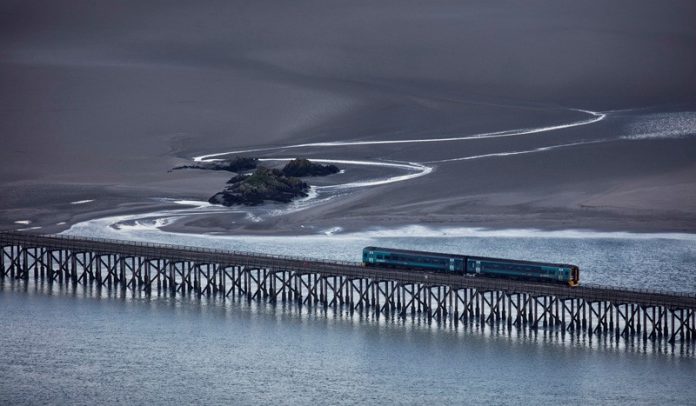 Visitors to Manchester Piccadilly Rail station will soon be able to view some of the most breathtaking images of landscapes from across the UK.
A free exhibition displaying top entries from the 2017 Landscape Photographer of the Year competition will continue its national tour of some of the UK's busiest railway stations after a successful two-week showcase at London Bridge.
Network Rail is using space at its stations to provide a compelling setting for the prestigious display, allowing commuters, shoppers and station visitors to appreciate some of the most majestic photographs of the British landscape – from atmospheric views of the misty Scottish wilderness to powerful images of stormy seas and iconic meandering rivers.
The exhibition also includes the 2017 winner of the Network Rail 'Lines in the Landscape' award, a category which challenges entrants to best encapsulate how Britain's railway relates to its surrounding landscape. Photographed by Jon Martin, the winning image is a stunning shot of the first train crossing Barmouth bridge, Wales after sunrise.
As winner of the 'Lines in the Landscape' award, Jon will receive an exclusive visit to Britain's favourite railway landmark, the Forth Bridge in Scotland where, weather permitting, he will have the chance to photograph the 127-year old railway bridge from areas not accessible to the general public. Network Rail will arrange for Jon to take the engineers' lift to the top of this iconic structure to capture some amazing views of the River Forth and see the Bridge from a completely different perspective.
Commenting on his win, Jon Martin, said:
"I was thrilled and stunned in equal measure on discovering that I had won the Network Rail Award. The bridge across the challenging terrain of the Mawddach Estuary at Barmouth is extraordinary. My favourite viewpoint was on a hill above the estuary looking down on the curves and lines in the landscape. I just had to wait for the next train to pass to get the shot I wanted."
The exhibition will run at Piccadilly from 23 April to 5 May