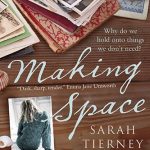 Sarah Tierney completed the Novel Writing MA at Manchester University in 2001 and her first novel, Making Space, has been published 2017.
She will be at Waterstones Deansgate to discuss her debut novel this Thursday.
The novel tells the story of Miriam, twenty-nine: temping, living with a flatmate who is no longer a friend, and still trying to find her place in life. She falls in love with Erik after he employs her to clear out his paper-packed home.
They are worlds apart: he is forty-five, a successful photographer and artist and an obsessive hoarder still haunted by the end of his marriage. Miriam has an unsuccessful love life and has just got rid of most of her belongings. Somehow, they must find a way to reach each other.
Sarah will talk about the book before taking audience questions and signing copies of her novel.
This event is free but please email events.manchester@waterstones.com to register your interest or for more information.