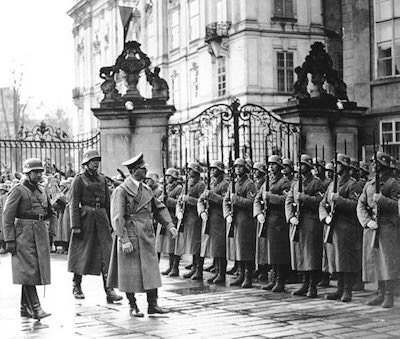 A Chance glance at the television has made it possible for a refugee to return to Ashton, the town where she was made safe during the the war.
Lady Milena Grenfell-Baines, then nine-year-old Milena Fleischmann, came to Britain with her sister Eva in 1939. They were among 669 mostly Jewish children who escaped Prague on one of the kindertrains organised by Sir Nicholas Winton just before Hitler's forces occupied what was then Czechoslovakia.
The Tameside connection became apparent in October, when Sir Nicholas was presented with the Order of the White Lion by President Milos Zeman of the Czech Republic.
The television news showed a wartime register giving Lady Milena's wartime address as Ashton. She and her her sister stayed with Cllr Roland Radcliffe – first on Alexandra Road and then Cedar Street.
On Wednesday, January 14, Lady Milena will be returning to Ashton to take tea with the Mayor.
She said: "I'm really looking forward to seeing Ashton again as I was so interested to hear about the plan to restore the old swimming baths where I spent many happy times.
"My sister and I had been living in a very modern apartment in Prague and then we found ourselves in Ashton, a place that seemed so strange and where we couldn't understand anyone. However, Eva says, we were surrounded by very kind people who treated us with such care. It really doesn't matter if you speak the language or not when you know people love you."
Lady Milena eventually married the late Sir George Grenfell-Baines, a highly respected architect, and now lives in Preston. Her sister Eva Paddock's home is in America.
The Civic Mayor of Tameside, Cllr Dawson Lane, said: "The people of Tameside are known for their warmth and friendliness so it doesn't surprise me that Lady Milena was made to feel at home in Ashton.
"She has a fascinating story to tell and I am looking forward to hearing it when she visits us in the new year."