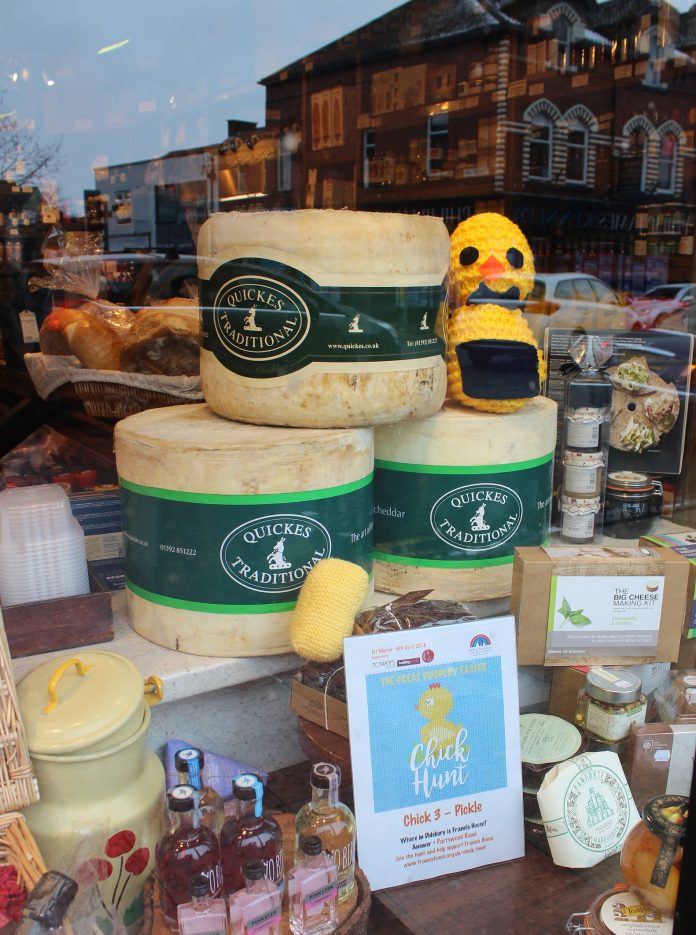 The windows of twenty shops and businesses in and around Didsbury, Manchester are home to a band of giant knitted chicks as part of the 'The Great Didsbury Easter Chick Hunt' organised by Manchester charity Francis House Children's Hospice.
The handmade chicks styled with aprons, fashion accessories and even a violin, reflect the trade of the local venues that include a cafe, toy shop, medical centre and cheese shop.
Family butchers Wheildons, were among the first to take delivery of their own chick complete with knitted apron and a string of sausages.
"It's brilliant to be involved in the Easter Chick Hunt in support of Francis House. We love our chick and are delighted to be hosting him in our shop window for the next few weeks," said Mary Wheildon.
Hospice supporter and keen knitter Maria Dunbobbin of Cheadle Hulme, knitted each of the 30 cm chicks.
Sophie Goodlass, Business Development Manager at Gusto Restaurant, Wilmslow Road, said: "Francis House is on our doorstep in Didsbury so we and jumped at the chance to be part of the first ever Chick Hunt. It is really great to do something within the local community and by following the map to find the chicks, people can have fun exploring the village and supporting a great charity."
Maps for the Easter hunt are provided at Didsbury Library and each of the venues or can be downloaded from the Francis House website www.francishouse.org.uk/chick-hunt
Members of the public as asked to fill in the name of each chick and answer a simple question about Francis House to be in with a chance of winning prizes.
The charity that receives 88 percent of its income from donations, is asking for a small donation from anyone taking part.
Rachel Astill, fundraiser at Francis House said: "We had great fun naming all chicks and handing them over to their new owners. We are delighted so many local traders are taking part and we hope lots of people will enjoy getting involved."
The chicks will be on display over the Easter period until April 6.
From its base in Didsbury, Francis House provides respite care to the families of children and young people with life-limiting conditions from all across Greater Manchester.