This year's Manchester Science Festival is up and running and the Museum of Science and Industry is putting on three exhibitions as part of the festival. About Manchester went to take a look.
Eighty one thousand foam balls, the water from over two hundred different seas captured in glass bottles and a machine that replicates the human gut.
Quite a mixture to take in at MOSI as the museum explores our relationship with the earth's seas and oceans, discovers how food effects the body and the soul and transforms the power of play with a huge tank of white balls.
Let's start with the oceans and the top floor of the 1830 warehouse features the work of acclaimed artist Tania Kovat's world premier of evaporation. Taking as her inspiration the work of James Lovelock's Gaia theory, the earth being a interconnected super organism, water is the connecting theme.
At its heart, three metal bowls which replicate the shape of the world's oceans, each holding a saline solution which will over time look different due to evaporation.
Then there is all the seas, three shelves filled with glass bottles of different shapes and sizes, each containing water from a different one of over three hundred seas scattered across the world collected by a volunteer network.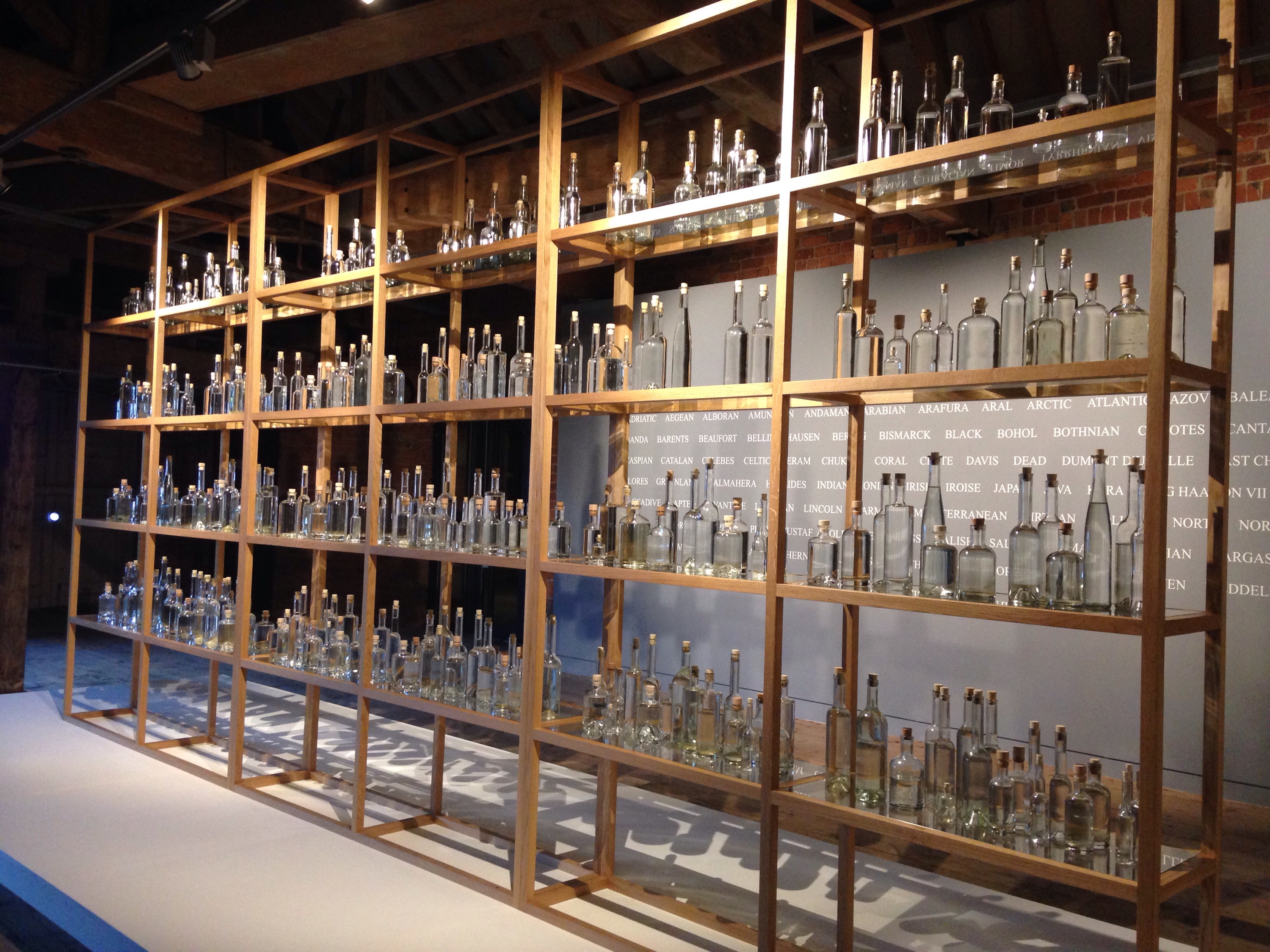 They are missing thirty, listed below, and will hope that these will be eventually gathered. The programme Director Kate tells me that she thinks of it as an inverse Noah's Ark and that after it is all over, they should get in touch with the Guiness Book of records.
Down one floor and we are asked whether food controls us in the exhibition entitled cravings.Think that you have control over what you eat? Well think again for from the flavours that we learned to love in the womb, our appetite has been formed by our food experiences.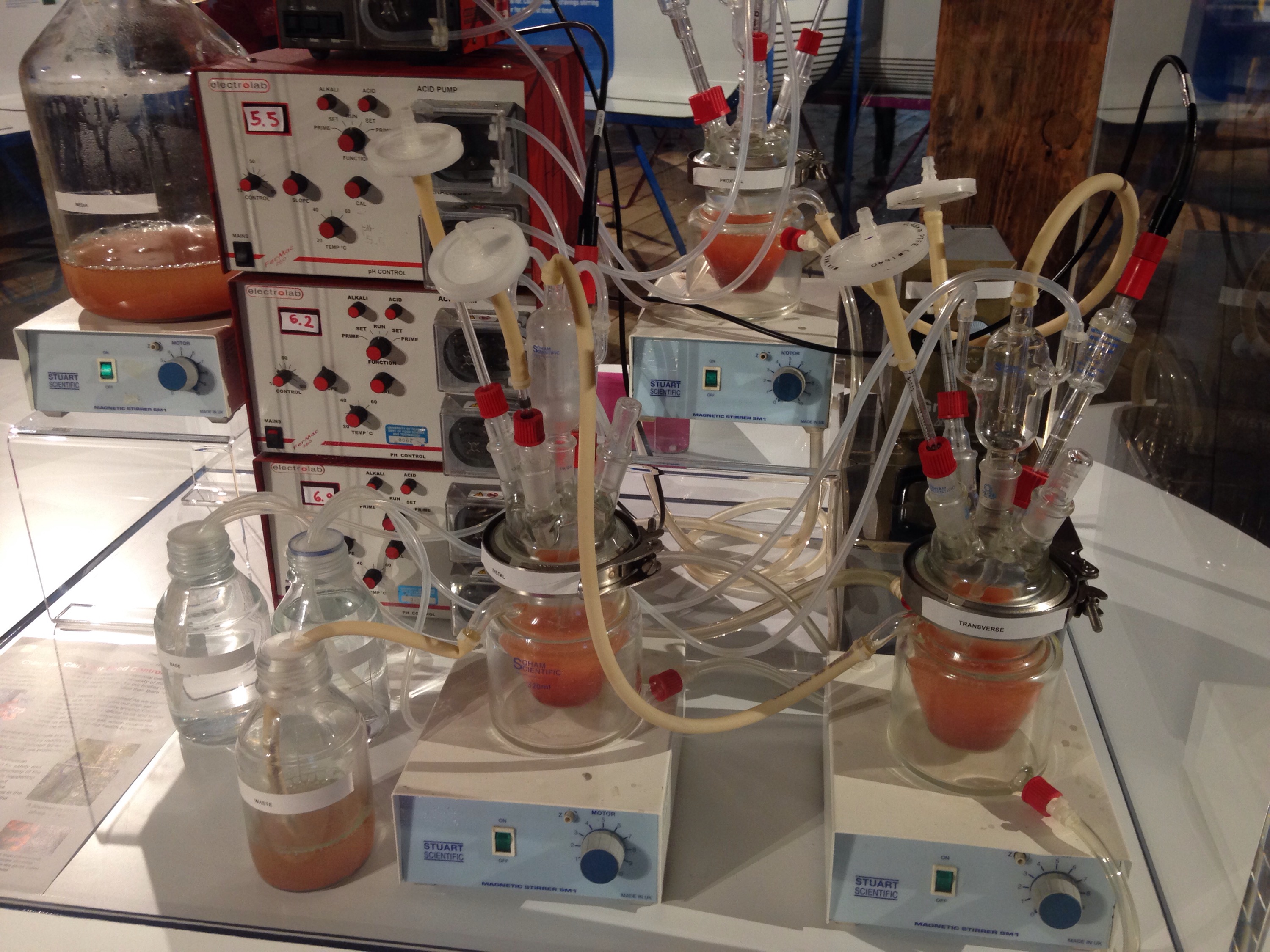 At its Centre point is the magnificent artificial gut, a laboratory representation of the Human Colon, that's the thing that we like to occasionally irrigate. This was created by the University of Reading to discover what effect differing bacteria has on our internal organ.
Along the way, a project from the university of Manchester is exploring how neurones in our brains tell us when we are full.They can already turn these on and off in mice and no doubt in the future this could be the answer to dieting.Or if you don't fancy that then there is always poo transplants.
Finally to the ball pit. For adults only, and after a sell out run in London and New York, Pearlfisher's Art installation, come adult playground is and I quote " designed to uniquely promote the transformary power of play and inspire creativity in both the workplace and adult life".

This correspondent can vouch for its relaxation abilities, having immersed himself in the white balls but was quickly women after struggling to get out.
These are all part of this year's Science Festival, Manchester's ninth, supported by Siemens and featuring one hundred and forty events across the city as well as marking the city's designation as 2016 European City of Science.
You can find details of all the events HERE
Here is a list of the missing seas
Amundsen,Arafura,Aral,Banda,Beaufort,Bering,Bismarck,Bohol,Camotes,Celebes,Ceram,Chukchi,Davis,Dumont d'Urville,East Siberian,Flores,Halmahera,Kara,King Haakon VII,Labrador,Laptev,Lincoln,Mirtoan,Molucca,Okhotsk,Pechora,Philippine,Prince Gustaf Adolf,Samar,Sargasso,Savu,Sibuyam,Solomon,Visayan,White